Adaptec 2288200-R HBA 1000 -16E SINGLE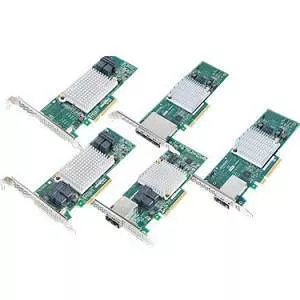 Highlights
Host Interface: PCI Express 3.0 x8
Platform Supported: PC
Total Number of SAS Ports: 4
Condition: New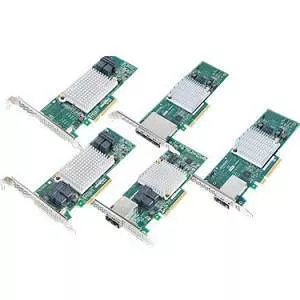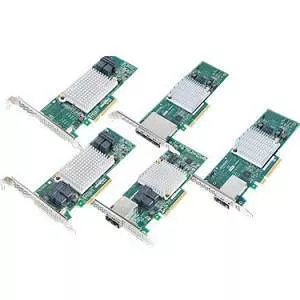 Adaptec 2288200-R HBA 1000 -16E SINGLE
Highlights
Host Interface: PCI Express 3.0 x8
Platform Supported: PC
Total Number of SAS Ports: 4
Condition: New
The Microsemi Adaptec HBA 1000 is the first product in the new Microsemi Adaptec Smart Storage Solutions family that is being forged through the convergence of Microsemi SAS/SATA protocol controller expertise, 30+ years of Adaptec board innovation, and acquired Smart IP technology.
Resiliency and Efficiency The new unified Smart storage stack delivers resiliency by combining the best of the eighth-generation Microsemi Adaptec ARC software and drivers with the acquired Smart IP of the most broadly deployed server storage stack. Combined with PMC's SSCi (16x12G/8x12G) SmartIO SAS/SATA protocol controller, the HBA 1000 Series provides a robust and stable solution that can handle the toughest system workloads and configurations. It is fully compatible with all existing and future Microsemi Adaptec HBA, RAID and Expander solutions.
Available in five different 12Gb/s configurations with up to 16 internal or 16 external SAS/SATA ports, the HBA 1000 Series offers the highest port count in a low-profile, MD2 form factor and 60% less power consumption than competing HBAs.
Ease of Use The HBA 1000 with its broad operating system support and ecosystem compatibility is easy to implement, and easy to scale when directly connecting up to 16 storage devices or scaling out with full compatibility using expanders. The unified management tools and drivers across the Microsemi Adaptec HBA, RAID and expander solutions enables customer easy manageability across the entire product line.
Maximum Performance The HBA 1000 Series provides the highest levels of storage performance and scalability for next generation data centers by connecting numerous state of the art 12Gb/s storage devices that can aggregate their performance to the limits of the PCIe Gen 3 host bus at 6600 MB/s and achieve over 1.3 million IOPs with minimal overhead or additional latency.