ATTO TLSH-3128-DE0 Dual 40 Gb to 8-Port 12 Gb SAS/SATA Thunderbolt 3 Adapter power cord included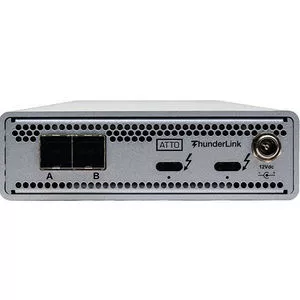 Highlights
Product Type: Thunderbolt/SAS Controller
Host Interface: Thunderbolt 3
Platform Supported: Mac | PC
RAID Levels: 0 | 1 | 1E | 10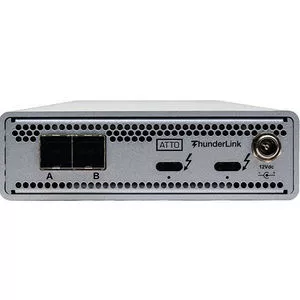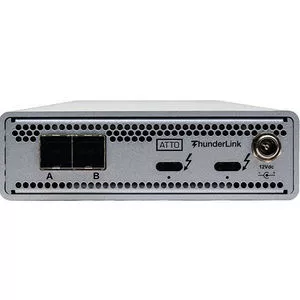 ATTO TLSH-3128-DE0 Dual 40 Gb to 8-Port 12 Gb SAS/SATA Thunderbolt 3 Adapter power cord included
Highlights
Product Type: Thunderbolt/SAS Controller
Host Interface: Thunderbolt 3
Platform Supported: Mac | PC
RAID Levels: 0 | 1 | 1E | 10
Industry Proven Technology
Delivering creative, engineering and technical professionals a high performance and low latency Thunderbolt™ connectivity solution engineered for applications where optimized performance and high throughput are essential. ThunderLink® adapters enable today's Thunderbolt enabled desktop and mobile workstations to connect into high performance storage or networks. ATTO Technology, Inc. utilizes 30 years of experience in reliable storage connectivity, history as an original Thunderbolt developer and an extensive depth in building media solutions to bring first-to-market high performance connectivity solutions to customers.

Flexible Connectivity Solutions
12Gb SAS/SATA adapters are an ideal Thunderbolt 3 solution for users looking to achieve efficient storage scalability. The integrated family of ThunderLink adapters boasts an extensive list of customer design wins and certifications with respected industry partners including the latest LTO-8 tape drives.

Performance Engineered
12Gb SAS/SATA adapters are designed to provide flexible connectivity to SAS/SATA storage, and are engineered to manage latency for real-time environments. ATTO exclusive Advanced Data Streaming (ADS™) Technology maximizes CPU processes to deliver smooth and reliable data transfers and the highest consistent performance. ATTO pays close attention to detail in board design and signal integrity to minimize transmission errors and data corruption. These differentiating capabilities make ATTO the premier choice for high-performance direct-attached SAS/SATA storage connectivity.

Advanced Management Tools
ATTO easy-to-use ConfigTool™ features an intuitive GUI that simplifies the installation, management and monitoring of the Thunderbolt adapter. With advanced troubleshooting and performance tuning capabilities, ConfigTool provides users with sophisticated diagnostics and the flexibility to control settings for specific applications.