ASUSTOR AS6302T SAN/NAS Storage System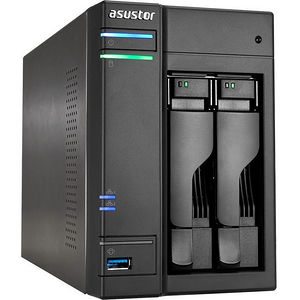 Highlights
Number of Total Expansion Bays: 2
Ethernet Technology: Gigabit Ethernet
Network (RJ-45): Yes
Processor Core: Dual-core (2 Core)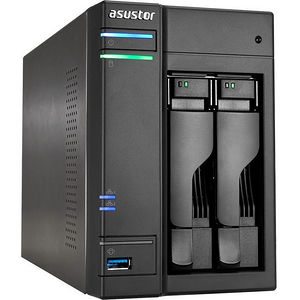 ASUSTOR AS6302T SAN/NAS Storage System
Highlights
Number of Total Expansion Bays: 2
Ethernet Technology: Gigabit Ethernet
Network (RJ-45): Yes
Processor Core: Dual-core (2 Core)
AS6302T

A comprehensive 2 bay NAS equipped with an Intel Celeron (Apollo Lake) dual-core processor for powerful 4K output. Economical and perfect for both home and personal use.
Enhanced CPU and GPU provides comprehensive performance upgrades
2 GB of expandable dual-channel memory
Utilizes the latest HDMI 2.0 and USB 3.0 Type-C specifications
Unique WOW (Wake-on-WAN) function provides flexible power control and access
Apollo Lake Processor

Maximized Computing Power
The all new AS6302T is equipped with the Intel Celeron (Apollo Lake) sixth generation 14nm process built dual-core processor. It features overclocking to 2.5GHz and overall performance that is enhanced by 30% when compared with previous generations, satisfying the needs for 24/7 access in small business environments.

Enhanced GPU

Increased Multimedia Processing Power
The AS6302T features a built-in Intel HD graphics engine, supporting HEVC and VP9 hardware transcoding that significantly enhances multimedia and image processing performance by 30%. This provides an unparalleled fluid usage experience for professionals and prosumers alike.
Dual-Channel Memory

Fluid 4K Performance
The AS6302T comes built-in with 2GB of dual-channel DDR3L SO-DIMM memory, allowing for remarkably fluid 4K playback. Furthermore, support for mixed capacity memory expansion, enhances configuration flexibility.
USB Type-C Ports Allow you to Connect to a New Generation of Devices
In addition to the existing USB 3.0 Type-A ports, the AS63/64 series devices have added two-way Type-C ports that allow your NAS to easily connect to a new generation of devices, quickly completing transfers of large multimedia files.
HDMI 2.0 Combined with 4K/UHD Output Provides Crystal Clear Quality Displayed Perfectly
The AS63/64 series supports next generation HDMI 2.0 specifications, featuring up to 60/50P 4K resolution video which provides twice the fluidity of 4K 30P. Combined with built-in 2GB/8GB dual channel memory, this allows for the playback of 4K/UHD with unparalleled smoothness. No matter if it's your treasured collection of Blu-ray quality movies or videos that you have recorded with professional quality cameras, ASUSTOR NAS can perfectly display all of it in crystal clear quality.
WOW (Wake on WAN) Always on Standby
Want to access the data on your NAS at any time, but worried that leaving it powered on for a long period of time will result in costly power bills, wear and tear on your hard disks and NAS or that you will become the target of hackers? ASUSTOR has provided the AS63/64 series devices with two types of unique network wake (WOL/WOW) functions easing all of the doubts mentioned above! WOL (Wake on LAN) allows you to wake the NAS from sleep mode or when its powered off as long as you are in the same network. WOW (Wake on WAN) allows you to enable all NAS services via the Internet, providing added flexibility for powering on/off the NAS and data access. These two types of network wake functions allow you to save power, extend the life of your NAS and hard disks, and lower your chances of being randomly hacked, ensuring data security.