ASUSTOR AS6104T NAS Server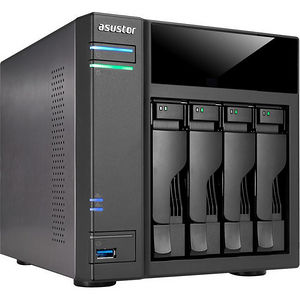 Highlights
Number of Total Expansion Bays: 4
Ethernet Technology: Gigabit Ethernet
Network (RJ-45): Yes
Processor Core: Dual-core (2 Core)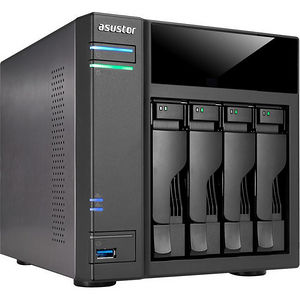 ASUSTOR AS6104T NAS Server
Highlights
Number of Total Expansion Bays: 4
Ethernet Technology: Gigabit Ethernet
Network (RJ-45): Yes
Processor Core: Dual-core (2 Core)
The first NAS models to be powered by the latest Intel Celeron N3050 processors
AS61 series devices are powered by IntelCeleron N3050 Braswell dual-core processors, equipped with 2GB of dual-channel memory, and feature read speeds of over 224.39 MB/s and write speeds of over 188.13 MB/s under RAID 1 configurations.
Hardware encryption engine
Focusing on enterprise-class file encryption needs, ASUSTOR has launched the AS61/AS62 series models with built-in hardware encryption engines, allowing data to be completely protected from the moment it is first stored on the NAS. This means that you never have to worry about your confidential data falling into the wrong hands even if your hard disks become lost or stolen. The built-in AES-NI hardware encryption engine also provides read speeds of over 224.71 MB/s and write speeds of over 132.56 MB/s for encrypted data.

Dual-channel power
The AS61/AS62 models are the first NAS devices in the world to support dual-channel memory, be able to smoothly playback 4K video and be powered by the latest Intel Celeron N3050/N3150Braswell processors. Furthermore, AS61/62 series devices are not only energy efficient, but offer a combination of performance and price that is unmatched in its class. Get ready to enjoy brilliant ultra high-definition 4K video from the comfort of your own home!
Connect with a new generation of I/O technology for limitless possibilities
A professional grade NAS needs to be equipped with a diverse array of expansion functionality. ASUSTOR has built in USB 3.0, USB 2.0, eSATA, gigabit Ethernet and HDMI 1.4a ports along with a high fidelity audio S/PDIF port, allowing the NAS to connect to different types of external devices and not be limited to its internal capacity. ASUSTOR NAS redefines the meaning of flexibility and expandability in network storage.
Increased reliability and speed
The built-in dual Ethernet ports combined with the link aggregation function, allows your NAS to maintain its connection even if one of your Ethernet connections fail, significantly decreasing the likelihood of unexpected disconnections.Additionally, link aggregation provides faster transfer speeds than a single connection could, along with load balancing which automatically balances network traffic load across the two connections, making it the optimal choice for users who require high speed reliability.
Effortlessly upgrade memory
Depending on your usage preferences, you can decide whether or not you want to upgrade memory. AS61/62 devices provide users with the ability to flexibly upgrade memory so there is no need to worry about the memory before you purchasing the device. When upgrading memory, you simply need to remove the cover of the NAS to do it (There are 2 expansion memory slots in total. Memory can be expanded up to a maximum of 8GB.), letting you easily improve system performance and allowing your NAS to simultaneously run more Apps.
High Quality Audio Output with S/PDIF
Turn your NAS into your digital music hub and let ASUSTOR's 50/51 Series devices take your local audio playback to another level. You can use SoundsGood or iTunes Server to play high quality digital music from your NAS and further combine it with S/PDIF high fidelity optical output for an unmatched listening experience that will truly bring your music to life.