ASUSTOR AS3104T NAS Server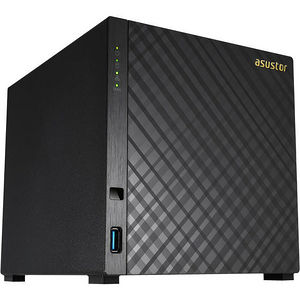 Highlights
Number of Total Expansion Bays: 4
Ethernet Technology: Gigabit Ethernet
Network (RJ-45): Yes
Processor Core: Dual-core (2 Core)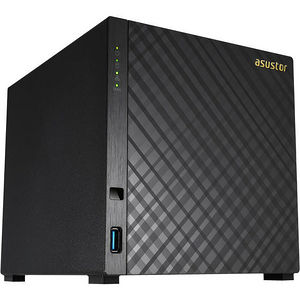 ASUSTOR AS3104T NAS Server
Highlights
Number of Total Expansion Bays: 4
Ethernet Technology: Gigabit Ethernet
Network (RJ-45): Yes
Processor Core: Dual-core (2 Core)
Powered by the latest Intel Celeron N3050 processors
AS3104 is powered by Intel Celeron N3050 Braswell dual-core processors, equipped with 2GB of dual-channel memory, and feature read speeds of over112 MB/s and write speeds of over 112 MB/s under RAID 5 configurations.
Dual-channel power
The AS31 models support dual-channel memory, be able to smoothly playback 4K video. Furthermore, AS31 series devices are not only energy efficient, but offer a combination of performance and price that is unmatched in its class. Get ready to enjoy brilliant ultra high-definition 4K video from the comfort of your own home!
Supercharge your multimedia experience
You no longer need to worry about running into resolution compatibility issues when playing videos on your phone, tablet or computer.
Media Converter utilizes a quick and simple conversion method, allowing you to execute conversion tasks in the background.
The exclusive built-in Hyper-Transcoding technology was expertly crafted by ASUSTOR. This technology utilizes the Intel CPU hardware acceleration function to make video file conversions faster and simpler than ever before. Using Hyper-Transcoding to convert video files can reduce the normal conversion time by at least 10 times.
Toolless installation
The AS31 series' sliding outer cover design allows it to be conveniently removed when needed. The inner hard disk rails and outer cover all use hand screws allowing for the simple installation of hard disks without any extra tools.
Add modern flair to your favorite space
The AS31 series devices redefine the aesthetics of a NAS. The stylish diamond-plate finished cover makes it an elegant addition to any space, no matter if it is a family room, living room or office.
Hardware encryption engine
Protecting your data is ASUSTOR's top priority. The AS31 series devices feature Intel AES-NI encryption engines, allowing data to be completely protected from the moment it is first stored on the NAS. This means that you never have to worry about your confidential data falling into the wrong hands even if your hard disks become lost or stolen. The built-in hardware encryption engine also features read speeds of over 112 MB/s and write speeds of over 71 MB/s for encrypted data providing an optimal combination of file security and system performance.
High capacity cloud storage for all your digital assets
The AS3104 provides a large capacity NAS for home users at an affordable price. Users can install four 8 TB hard disks to immediately create a high capacity storage space of up to 32 TB. When taking photos or recording videos of family vacations, gatherings and other cherished memories, users no longer need to be confined to the limited storage on memory cards. With high capacity AS3104, users can save all of their videos and photos in high quality resolution, preserving them perfectly. Additionally, RAID 5 and 6 storage volume setting provide comprehensive protection for all digital assets stored on the NAS, minimizing the risk of data loss due to hard disk failure or accidents.