ASUS XONAR U5 USB Soundcard and Headphone Amplifier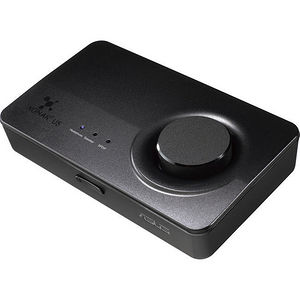 Highlights
Sound Channels: 5.1
Host Interface: USB
Number of Headphone Ports: 4
Platform Supported: Mac | PC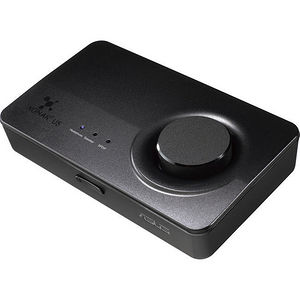 ASUS XONAR U5 USB Soundcard and Headphone Amplifier
Highlights
Sound Channels: 5.1
Host Interface: USB
Number of Headphone Ports: 4
Platform Supported: Mac | PC
Compact 5.1-channel USB sound card and headphone amplifier with 192kHz/24-bit HD sound and Sonic Studio suite
True 5.1-channel HD (192kHz/24-bit) surround sound from a compact USB-powered device
104dB signal-to-analog ratio (SNR) ensures pure sound
Sonic Studio provides complete control over loads of sound technologies
Perfect Voice technology eliminates noises for clear in-game communications
Independent mic and master-volume controls for instant in-game adjustments
Integrated headphone amplifier provides clear, detailed sound for an immersive audio experience
A compact audio solution for incredible sound
Xonar U5 is a compact 5.1-channel USB sound card designed to provide PC gamers with high quality audio for games, music and movies. It follows in the footsteps of the award-winning Xonar U7 - providing you with strong and clear sound via headphones, and producing more impactful and detailed audio than onboard hardware. The Xonar U5 has no standalone power supply and connects to your PC via USB, allowing you to instantly plug-in without having to open the PC case.
Take complete control of your audio with Sonic Studio
Xonar U5 features the latest Sonic Studio software suite, so you have full control over every audio setting ranging from equalization (EQ) to 5.1-speaker level-balancing. Sonic Studio has a single navigation page that puts everything in front of you, with an intuitive point-and-click interface that allows you to pre-set audio profiles to suit different audio requirements.