ASUS VG23AH 23" Full HD 3D LED LCD Monitor - 16:9 - Black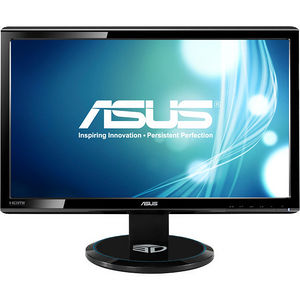 Highlights
Maximum Resolution: 1920 x 1080
Brightness: 250 Nit
Platform Supported: PC
Product Type: LCD Monitor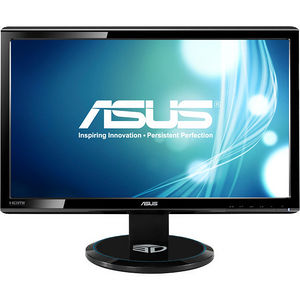 ASUS VG23AH 23" Full HD 3D LED LCD Monitor - 16:9 - Black
Highlights
Maximum Resolution: 1920 x 1080
Brightness: 250 Nit
Platform Supported: PC
Product Type: LCD Monitor
Outrun Reality, Switch On to Instant 3D
Dive into an immersive and colorful full 3D virtual world with the ASUS VG23AH 3D IPS LED-backlit monitor. With a touch of a hotkey, ASUS All-in 3D Technology lets you instantly switch from 2D to breathtaking 3D visuals.
Enjoy a sharp, stunning 2D and 3D home theater experience while reveling in pitch-perfect audio from its built-in 3W stereo speakers. Its ergonomic, user-friendly design features increased connectivity through dual HDMI 1.4 ports, while the bundled ASUS 3D and additional 3D clip-on glasses ensure a comfortable viewing experience.
Stereoscopic 3D Immersion.Cinematic 3D Home Theater.
The VG23AH features Film-type Patterned Retarder (FPR) 3D technology that transports users into an immersive 3D virtual world. The technology used in FPR 3D monitors separate the 3D images that are delivered to the left and right eye simultaneously to deliver flicker-free 3D visuals that are easy on your eyes.
Do away with complicated 3D system setups with the ASUS All-in 3D technology. The VG23AH features an exclusive hotkey that allows users to convert any 2D to 3D content easily without compromising performance. The VG23AH delivers the ultimate cinematic home theater experience - providing ultra-crisp and smooth 2D or 3D visuals accompanied by audio from its built-in 3W stereo speakers.