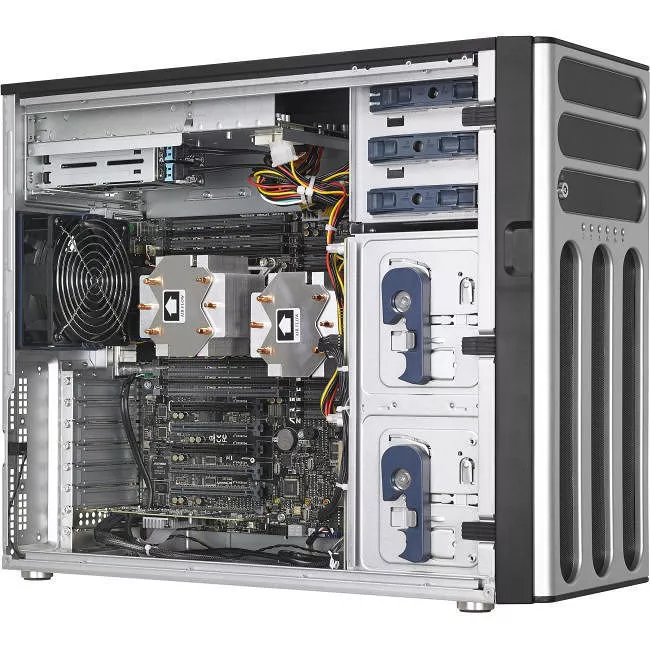 MPN: TS700-E8-RS8 V2
ASUS TS700-E8-RS8 V2 5U Tower Barebone System - Intel C612 Chipset - 2X Socket R3 LGA-2011
Built with Super Speed, Ready for Hyper Scale
TS700-E8-RS8 V2 is designed for dual use server and workstation supporting extreme graphics power, optimized audio performance, BIOS flashback and Q-code logger, an easy-maintenance button. It features the latest Intel® Xeon® processor E5-2600 v3 product families, 16 DIMMs, six expansion slots, three 5.25 media bays and 1+1 Redundant 800W 80PLUS Gold Power Supply. TS700-E8-RS8 V2 is perfect for growing business applications and individual workstation users.

High Flexibility
TS700-E8-RS8 V2 has 6 expansion slots, 8 HDD bays and optional ASUS PIKE II upgrade kit performing high flexibility. There are six Gen3 x 16 slots meeting diverse add-on card applications including networking and graphics support. There are eight 3.5 hot-swap SATA/SAS HDD bays for flexible storage requirement. Additionally, ASUS PIKE II 3x08 series is the latest 12Gb/s SAS and PCI-E 3.0 high reliability enterprise storage solution. It meets users' needs with support for 6Gb/s SATA and 12Gb/s SAS storage and integrated RAID data protection. Besides working as a pedestal server, the TS700-E8-RS8 V2 is also rack-mountable with the optional rack-mount kit, saving space and consolidating with the many systems required by growing businesses.
ASUS PIKE II & 12G SAS Integration
ASUS PIKE II offers the latest 12Gb/s SAS together with PCI-E 3.0 solution. While ASUS latest 12Gb/s SAS doubles the data rate running at twice the speed of the previous generation, PCI-E 3.0 offers high reliability and faster speed connection. ASUS PIKE II meets user needs with support for 6Gb/s SATA and 12Gb/s SAS storage and integrated RAID data protection. Just placing the PIKE II card can immediately enlarge the capacity, improve the performance, and strengthen the signaling, making it the great upgrade option. Additionally, multiple HBAs allow multi-paths which improve over performance.
Server & Workstation Dual Use
There are 6 expansion slots include 4 PCI-E Gen3 x16 slots supporting up to x16 link perfectly for graphic applications. Together with 7.1 channel HD Mater AudioTM output offering better enhanced signal-to-noise ratio in a 7.1 surround channel, TS700-E8-RS8 V2 is perfectly for both server and workstation dual use. Also, Q-code logger lets you log events right to a USB flash drive. The log includes all ASUS Q-Codes in a handy text file. BIOS flashback lets you automatically flash BIOS using ATX standby power by just plug in any USB storage and push the dedicated button for 3 seconds. Worry-free for the ultimate convenience!
Premium components for premium efficiency
TS700-E8-RS8 V2 benefits from premium components hand-chosen and carefully arranged by ASUS engineers to provide premium efficiency. With ASUS Beat Thermal Chokes, Dr. MOS and 1+1 Redundant 800W 80 PLUS Gold power supplies, it delivers great durability and up to 92% power efficiency. TS700-E8-RS8 V2 has durable 12k solid capacitors that are able to withstand up to 12,000 hours of high ambient temperatures. These 12K capacitors also boast lower equivalent series resistance (ESR) for increased efficiency and minimal heat generation.