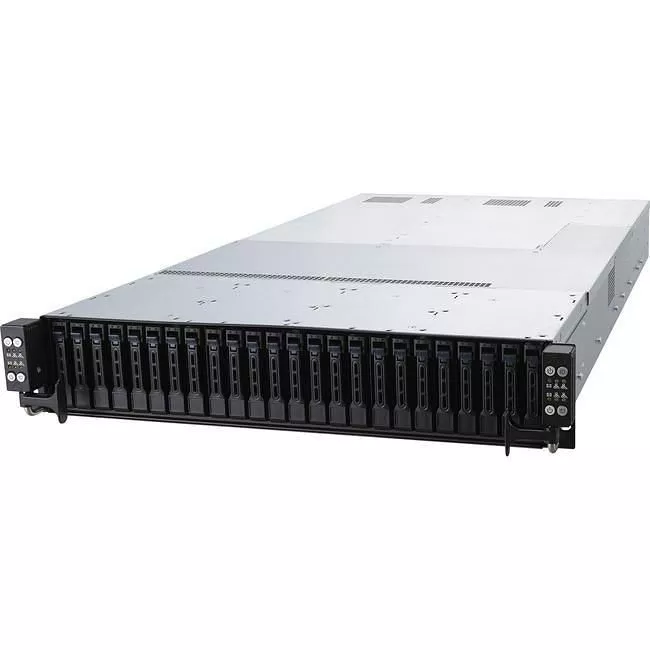 MPN: RS720Q-E9-RS24-S
ASUS RS720Q-E9-RS24-S 2U Rack Server Barebone - 4X Nodes - 2x Socket P LGA 3647 per Node -
High-density server with great scalability for High-Performance Computing (HPC)
2U4N design with great scalability for compute-intensive workloads
Robust native storage interface support with up to 24 SATA/SAS drives or a combination of up to 8 NVMe SSDs and 16 SATA/SAS drives.
Comprehensive IT infrastructure management solution - ASUS Control Center and ASMB9-iKVM
Exclusive thermal radar technology for energy efficiency
Simplified maintenance and management
2U4N design with great scalability for compute-intensive workloads
RS720Q-E9-RS24-S is the ideal server solution for compute-intensive workloads that require scalability, density and performance, including high-performance computing (HPC), data analytics, datacenter operations and private cloud applications. Featuring a modular 2U chassis containing four server nodes that handle twice the workload per rack unit, RS720Q-E9-RS24-S delivers incredible performance with reduced space requirement and operating costs.
Robust native storage interface support
RS720Q-E9-RS24-S natively supports up to 24 hot-swappable SATA and SAS drives or a combination of up to 16 SATA and SAS drives plus eight direct-connected NVMe SSDs for high-speed data access. IT administrators can also add 2.5 HDDs or SSDs to the front hot-swap bays for even more storage. Additional HBA cards are not required, leaving expansion slots available for other components.
Comprehensive IT infrastructure management solution
RS720Q-E9-RS24-S features an embedded ASMB9-iKVM module and is bundled with ASUS Control Center software to provide comprehensive in-band and out-of-band management.
Powered by the latest 2nd Gen Intel Xeon Scalable processors
Each node of RS720Q-E9-RS24-S is engineered to run two of the latest 2nd Gen Intel Xeon Scalable processors, featuring up to total 28 cores per processor and 165W power consumption. This 4-node server features 48 memory slots in total that fit up to 6TB of DDR4 2666 memory for intensive computing. RS720Q-E9-RS24-S offers breakthrough performance with the latest Intel Optane™ DC persistent memory with an over 88% gain in input/output operations per second (IOPS) compared with the same configuration in SSD.
Exclusive thermal radar technology for energy efficiency
RS720Q-E9-RS24-S features a smart Thermal Radar design with more ambient thermal sensors for the CPU, memory, NVMe SSD, PSU and front-panel board that provide improved temperature monitoring and enable dynamic fan speed adjustment for better power efficiency. This smart thermal design reduces fan power consumption by up to 20% and eliminates the power-sharing board for improved efficiency and lower operation costs.
Simplified maintenance and management
Easy-to-swap nodes
With accessible computing nodes that each have their own power button, IT administrators can easily swap malfunctioning nodes without affecting the operation of other nodes.
Visible Q-Code
A visible Q-Code (port 80) LED display provides easy monitoring of the entire boot process, from power-on until the operating system loads.
Quick initialization guidance
Instant system initialization information and diagnostic results are available for efficient IT operation and easy troubleshooting.