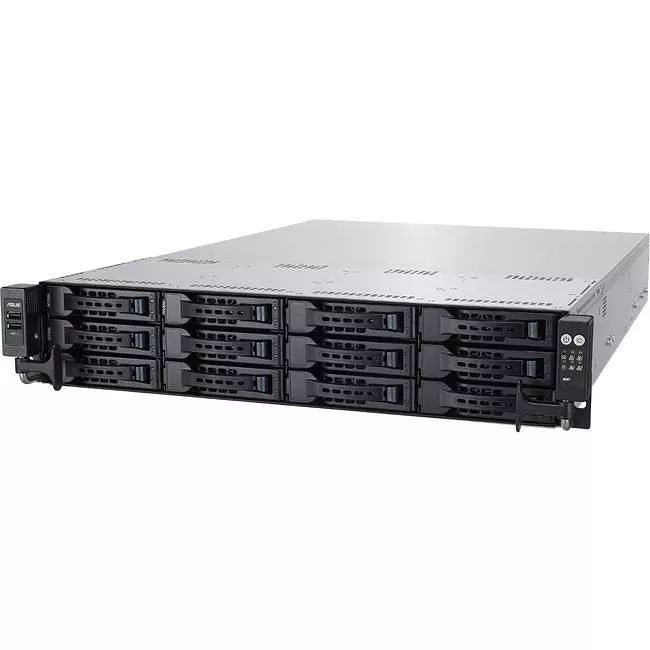 MPN: RS520-E9-RS12-E
ASUS RS520-E9-RS12-E 2U Rackmount Barebone - Intel C621 Chipset - 2x Socket P/LGA-3647
Industry-leading memory capability
With 16 RAM slots that support up to 2TB of fast, DDR4-2666MHz 3DS ECC RDIMMs or LRDIMMs, ASUS RS520-E9-RS12-E delivers industry-leading memory capability for your business.
The best storage interface combination for software-defined storage management
12 x 3.5 / 2.5'' hot-swap storage bays (supports 4 x 2.5'' NVMe or SAS or SATA devices)
Optimized storage with hot-swap bays and dual M.2
ASUS RS520-E9-RS12-E features two additional 2.5 hot-swap storage bays on its back panel and dual onboard M.2 slots that can be used for the main system disk as well as for memory caching. The dual M.2 SSDs can be configured as PCI-E RAID with Intel® VROC to speed up storage caching.
Intel® Xeon® Scalable Platform design
ASUS RS520-E9-RS12-E is built on the Intel® Xeon® Scalable Platform to deliver incredible performance and features 16 DIMM slots that provide best-in-class memory capacity and bandwidth. Intel® Xeon® Scalable processors offer higher per-core performance and six memory channels that provide 50% more memory bandwidth and capacity for 1.65X faster average system-level performance compared to previous-generation processors. The Intel® Xeon® Scalable platform also delivers better virtualization performance, enabling 4.2X more virtual machines (VMs) per system.
Smart thermal design for energy efficiency
ASUS RS520-E9-RS12-E features a smart Thermal Radar and Auto Fan Control design with more ambient thermal sensors for the CPU, memory, GPU and front-panel board that provide improved temperature monitoring and enable dynamic fan speed adjustment for better power efficiency.
Comprehensive IT infrastructure management solution
The latest ASMB9-iKVM module enables remote BIOS updates, fans control, standalone KVM/Java utilities, video recording and BSOD capture. With out-of-band management, ASMB9-iKVM provides around-the-clock remote monitoring and diagnostics - even if the server operating system is down or offline - through a user-friendly, web-based graphical interface that works with all major browsers. ASUS Control Center (ACC) is a centralized and integrated IT management platform for monitoring and controlling ASUS commercial products, including servers, workstations and digital signage. ACC enables easier server management with functions such as BIOS updating without restarting the system, remote monitoring of multiple systems via mobile devices, and one-click software updates and dispatching. Learn more about ACC
Rack-optimized thermal performance
With the CPU and memory configured in a front parallel design that enables efficient airflow for excellent thermal performance, ASUS RS520-E9-RS12-E is optimized for rack placement.
Flexibility to grow with your business
ASUS RS520-E9-RS12-E comes with a wide range of ports to provide a flexible and cost-effective computing environment with the ability to grow together with your business. RS520-E9-RS12-E features:
A rack-optimized design
12 x 3.5 Hot-swap HDD bays (4x NVMe Supported)
6 PCIe + 1 OCP expansion slots in a 2U rack unit
OCP 2.0 Mezzanine
Dual M.2 support