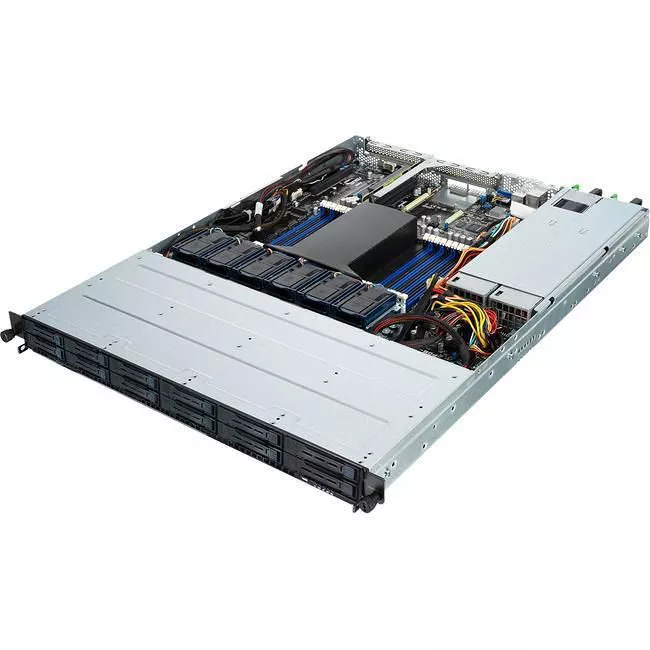 MPN: RS500A-E10-RS12U
ASUS RS500A-E10-RS12U 1U Rackmount Barebone - 1x Socket SP3 - SoC
Powered by AMD EPYC™ 7002 Series Processors
The AMD EPYC™ 7002 processor features the world's first 7nm datacenter-design and a PCI Express® 4.0-capable x86 server processor with up to 2x the performance and 4x the floating point capability versus the previous 7001 generation. With support for up to 64 cores, 128 threads, 8-channels DDR4 3200, 128 PCIe 4.0 lanes and 225W of thermal design power (TDP), this processor is also designed with encryption features in memory and virtualization for security assurance.

Accelerate your workloads
To effectively manage the storage demands of growing amounts of data, RS500A-E10-RS12U supports for up to twelve 2.5-inch hot-swap SATA, SAS and NVMe drives in a 1U chassis for flexible expansion for storage. One M.2 slot accommodates 22110-size SSDs with support for additional OS storage and PCIe Gen3 x4 bandwidth - 5.3X faster than 6 Gb/s SATA III - for faster boot speeds.
Redundant Platinum PSU support
650W 80 Plus Platinum power supplies with 92%+ efficiency directly reduce operating costs and capital expenses.
Rich I/O expansion with PCIe 4.0
PCIe 4.0 offers a 16 GT/s that doubles the bandwidth of PCIe 3.0 and delivers lower power consumption, better lane scalability and backwards compatibility. RS500A-E10-RS12U features one PCIe x16 lane and one PCIe 4.0 x8 lane to allow optional HBA/RAID, NIC and InfiniBand (IB) cards for a diverse array of storage and networking applications.
Ultrafast Connectivity for HPC Applications
RS500A-E10-RS12U features two embedded Gigabit Ethernet ports and supports up to 100G or higher interconnect speeds with the addition of a PCIe 4.0 (Gen 4 x16 link) for its OCP 2.0 mezzanine card for HPC applications that require high-bandwidth, low-latency network support to connect multiple nodes and clusters. ASUS offers an authorized validation OCP mezzanine card for these models.
Thermal Radar 2.0 for energy efficiency
Featuring two innovative intelligent detection technologies and multi-fan zone design, ASUS Thermal Radar 2.0 places different sensors on the CPU, GPU, DIMM, HDD and in other areas to collect localized heating information to designate dedicated fan flow automatically to reduce consumption of overall fan capacity. Additionally, the multi-fan zone design enables multiple fan curves for different zones to reduce operating time and cost required for manual adjustments and effectively enhances system reliability and thermal efficiency.
Performance Boost technology
ASUS servers feature exclusive Performance Boost technology to achieve optimal server performance and agility by tuning servers to match workloads, allowing you to gain greater control of your server environment. This technology improves workload throughput by maximizing processor frequency and boost power. It's ideal for time-sensitive applications such as financial services or data center operations. In the BIOS you can choose from pre-configured server profiles optimized for specific workloads, maximizing overall performance and reducing server-configuration time.