ASUS PEB-10G/57840-2T 10Gigabit Ethernet Card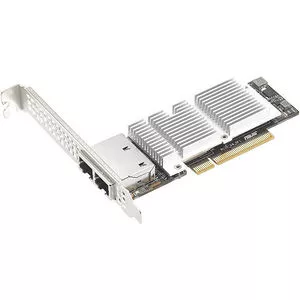 Highlights
Media Type Supported: Twisted Pair
Network Technology: 10GBase-T
Number of Network (RJ-45) Ports: 2
Total Number of Ports: 2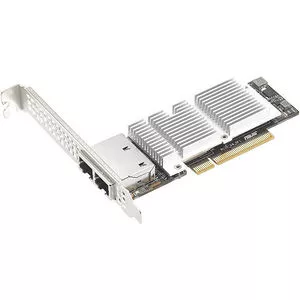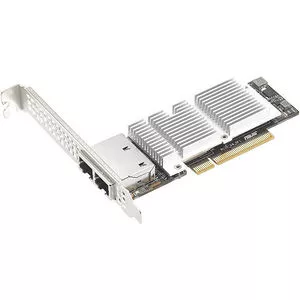 ASUS PEB-10G/57840-2T 10Gigabit Ethernet Card
Highlights
Media Type Supported: Twisted Pair
Network Technology: 10GBase-T
Number of Network (RJ-45) Ports: 2
Total Number of Ports: 2
The ASUS PEB-10G/57840-2T is designed to take advantage of high-performance 10Gb/s connectivity technology to meet the need for faster rates of data transmission. It is one of the latest 10 Gigabit Ethernet innovations and is a cost-effective 10 Gigabit Ethernet solution for the broader server market. Through the PEB-10G/57840-2T Ethernet adapter, users are able to simplify migration to 10GbE and to enjoy the cost-effective RJ-45 connectivity with the support of a much longer cabling distance.
10GBase-T Network Adapter

PCI-E 3.0 Interface with Smaller Form Factor for Flexible System Integration

The ASUS PEB-10G/57840-2T adapter features PCI-E 3.0 interface and a smaller 4.72x 1.77 form factor. The 4.72x 1.77 form factor is even smaller than standard low-profile MD2 form factor; thus allowing customers to integrate the adapter in space-limited systems easily and flexibly. PEB-10G/57840-2T provides a flexible and perfect fit for various server integrations.
Keep Pace with the 10Gb/s Trends
More and more applications require high-bandwidth to transfer large data, especially data center, HPC, web-hosting and enterprise uses. New 10Gb/s Ethernet is an ideal technology for moving large amounts of data quickly, more than sufficient for the network needs of large scale virtual machines and virtualization environments. The bandwidth it provides in conjunction with server consolidation is highly advantageous for cloud computing, virtualization software, web caching, real time application response, databases, social networking and business logic apps, science simulations, and professional modeling.
Cost-effective 10GBase-T Solution
The ASUS PEB-10G/57840-2T Ethernet adapter provides a cost-effective 10GBase-T solution that enables 10 Gigabit Ethernet operations over twisted-pair copper cabling, which can reach up to 100 meters, offers great flexibility for network design. With the cost-effective RJ-45 connectivity, PEB-10G/57840-2T provides a more affordable 10 Gigabit Ethernet performance. It also provides the backward compatibility which allows most users to simplify migration to 10 Gigabit Ethernet.