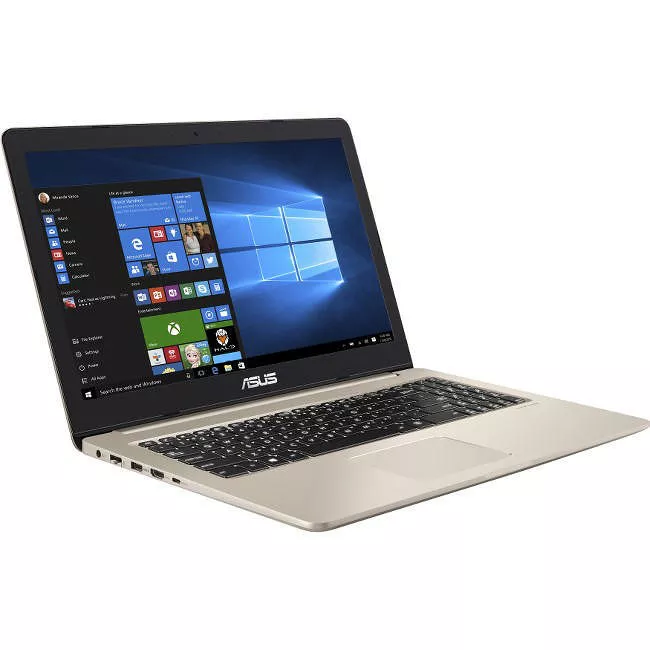 MPN: N580VD-DS76T
ASUS N580VD-DS76T VivoBook Pro 15 15.6" Touchscreen LCD Notebook - Intel Core i7-7700HQ 4C 2.80 GHz
ASUS VivoBook Pro
Performance is everything
The ASUS VivoBook Pro 15 is a slim and lightweight high-performance laptop that's powered by a 7th Generation Intel® Core™ i7 processor. It features a 1080p FHD display with 100% sRGB color gamut, high-quality GTX 1050 gaming-grade graphics, audio co-developed by Harman Kardon, and the latest cooling and fast-charge technologies.
Beauty
Aluminum design
Each VivoBook Pro 15 is milled from high-strength aluminum that undergoes a series of intricate manufacturing processes to achieve its sleek and elegant final form. With a 0.8in profile and an overall weight of 5.1 lb, the VivoBook Pro 15 is the thinnest and lightest model offered in the VivoBook Pro series.
Performance
Unprecedented performance
At the heart of the VivoBook Pro 15 is the incredibly powerful 7th Generation Intel Core i7-7700HQ processor for superior performance. With 16GB DDR4 RAM - 33% faster than DDR3 - the VivoBook Pro 15 delivers processing power for effortless multitasking. When equipped with an optional high-performance SSD, the VivoBook Pro 15 offers class-leading data access speeds. For ultra-fast connectivity, VivoBook Pro 15 features dual band 802.11ac Wi-Fi for speeds that are 6x faster than 802.11n!
Performance
Amazing gaming-grade NVIDIA® graphics
With up to NVIDIA® GeForce® GTX 1050 gaming-grade graphics, the VivoBook Pro 15 delivers flawless visuals - perfect for gaming, watching movies, or editing 4K UHD videos. It has the power to tackle even the most graphics-intensive tasks with ease.
Performance
Intelligent dual fans
The VivoBook Pro 15 features a robust cooling system to ensure smooth and stable performance during high-load multitasking or gaming marathons. An intelligent dual-fan design has eight automatically-adjustable speeds to deliver maximum cooling efficiency with minimal noise. Its compact, hyper-cool, dual-copper thermal module leverages system heat pipes and fans to independently increase CPU and GPU performance.