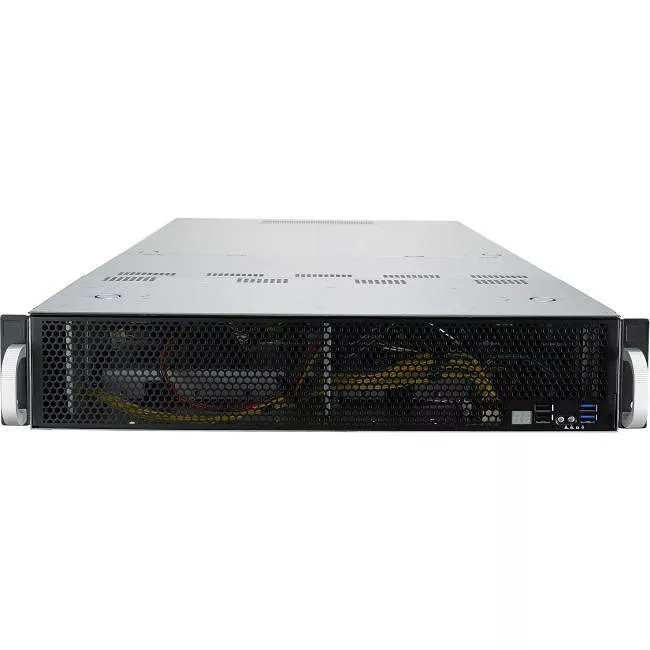 MPN: ESC4000 G4X
ASUS ESC4000 G4X 2U Rack Barebone System - 4x GPU - Intel C621 Chipset - Dual Socket P LGA 3647
Intel® Xeon® Scalable platform design
ASUS ESC4000 G4X is built on the Intel® Xeon® Scalable Platform to deliver incredible 2U server performance, packing incredible power into minimal space. 16 DIMM slots provide best-in-class memory capacity and bandwidth, and an integrated I/O controller on the processor eliminates data transfer bottlenecks caused by discrete I/O chipsets for reduced latency and dramatically faster system
Flexible choice on versatile accelerators
ESC4000 G4X supports up to four double-deck server GPUs in 2U form factor. Broad GPU support including NVIDIA, AMD and Intel.
Flexible 8+2 expansion slots in a 2U server
ESC4000 G4X offers eight full-length PCI Express 3.0 x16 (4 at x16 link or 8 at x8 link), one low-profile PCI Express 3.0 x24 with support of a riser card for additional one PCI Express x16 (x16 Gen3 link) and one PCI Express x8 (x8 Gen3 link). Flexible expandability in a 2U form factor supports diverse storage and networking applications to meet the demands of future expansion and high scalability.
User-friendly design for easier server maintenance
ESC4000 G4X features numerous user-friendly design features that simplify server maintenance. The server's Q-code is visible from the outside of the case to make diagnosing issues easier and more convenient. A tool-less chassis design is included for easy server installation and removal, and a tool-less, hot-swappable fan provides faster and simpler maintenance.
Expandable storage for faster transfer speeds
ESC4000 G4X features one M.2 slot accommodates 2280-size SSDs with support for additional OS storage and PCIe 3.0 x4 bandwidth - 5.3X faster than 6 Gb/s SATA III - for faster boot speeds. ESC4000 G4X is ideal for data centers with high storage and processing demands. ESC4000 G4X supports two 3.5 or 2.5 internal HDD cages.
Fully integrated remote server management
The latest ASMB9-iKVM module enables remote BIOS updates, standalone KVM/Java utilities, video recording and BSOD capture. With out-of-band management, ASMB9-iKVM provides around-the-clock remote monitoring and diagnostics - even if the server operating system is down or offline - through a user-friendly web-based graphical interface that works with all major browsers. ASUS Control Center (ACC) is a centralized and integrated IT management platform for monitoring and controlling ASUS commercial products, including servers, workstations and digital signage. ACC enables easier server management with functions such as BIOS updating without restarting the system, remote monitoring of multiple systems via mobile devices, and one-click software updates and dispatching.
Learn more about ACC.
Smart thermal design for energy efficiency
ESC4000 G4X features a smart thermal radar design with more ambient thermal sensors for the CPU, memory, GPU, SSD, LAN card and front-panel board that provide improved temperature monitoring and enable dynamic fan speed adjustment for better power efficiency. This smart thermal design reduces fan power consumption by up to 20% and eliminates the power-sharing board for improved efficiency and lower operation costs.