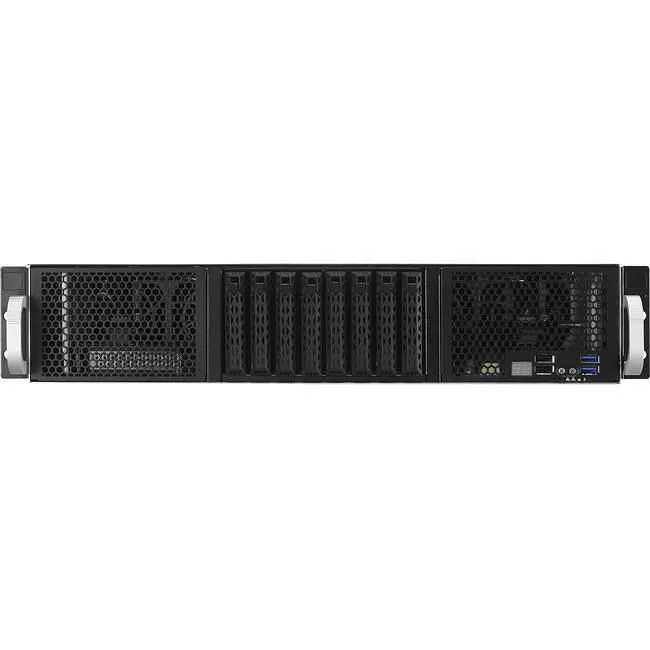 MPN: ESC4000 G4S
ASUS ESC4000 G4S Barebone - 2U Rack-mount - Intel C621 Chipset - Socket P LGA-3647 - 2 x CPU
Powered by the latest 2nd Gen Intel Xeon Scalable processors
ESC4000 G4S is built on the latest 2nd Gen Intel Xeon Scalable processors to deliver incredible 2U server performance, packing incredible power into minimal space. The latest Intel platform delivers a 1.33X average performance improvement in power consumption and clock speed over previous-generation processors with popular applications and benchmarks. ESC4000 G4S offers breakthrough performance with the latest Intel Optane™ DC persistent memory with an over 88% gain in input/output operations per second (IOPS) compared with the same configuration in SSD. Featuring the latest Intel Deep Learning Boost technology to enhance deep learning capabilities, ESC4000 G4S achieves a 3.1X performance improvement in the ResNet-50 and SSD VGG-16 models, fully demonstrating the inference capability of the new platform.
Flexible choice on versatile accelerators
ESC4000 G4S supports up to four double-deck server GPUs in a 2U form factor. Broad GPU support including NVIDIA®, AMD® and Intel®.
Maximum flexible 8+3 expansion slots in a 2U server
ESC4000 G4S offers eight full-length PCI Express 3.0 x16 (4 at x16 Link or 8 at x8 Link), one low-profile PCI Express 3.0 x24 with support of a riser card for additional one PCI Express x16 (x16 Gen3 Link) and one PCI Express x8. One PCI Express x8 for internal HBA/RAID card. Flexible expandability in a 2U form factor supports diverse storage and networking applications to meet the demands of future expansion and high scalability.
User-friendly design for easier server maintenance
ESC4000 G4S features numerous user-friendly design features that simplify server maintenance. The server's Q-code is visible from the outside of the case to make diagnosing issues easier and more convenient. A tool-less chassis design is included for easy server installation and removal, and hot-swappable fan provides faster and simpler maintenance.
Expandable storage for faster transfer speeds
ESC4000 G4S features full-bandwidth port-to-port OCuLink for two NVMe storage devices with 3X faster transfer speeds compared to PCIe switch IC solutions. One M.2 slot accommodates up to 2280-size PCIE SSDs to support additional storage for OS with faster boot speeds.
Comprehensive IT infrastructure management software
ESC4000 G4S features an embedded iKVM module and is bundled with ASUS Control Center software to provide comprehensive in-band and out-of-band management features for small and mid-size businesses:
ASUS Control Center (ACC) is a centralized and integrated IT management platform for monitoring and controlling ASUS commercial products, including servers, workstations and digital signage. ACC enables remote BIOS updates, monitoring of multiple systems via mobile devices, and one-click software updates and dispatching, allowing easier server management for any IT infrastructure.
The embedded ASMB9-iKVM module supports remote BIOS updates, fans control, standalone KVM, video recording, and BSOD capture, providing around-the-clock remote monitoring and diagnostics - even if the operating system is down or offline - through a user-friendly, web-based graphical interface that works with all major browsers.