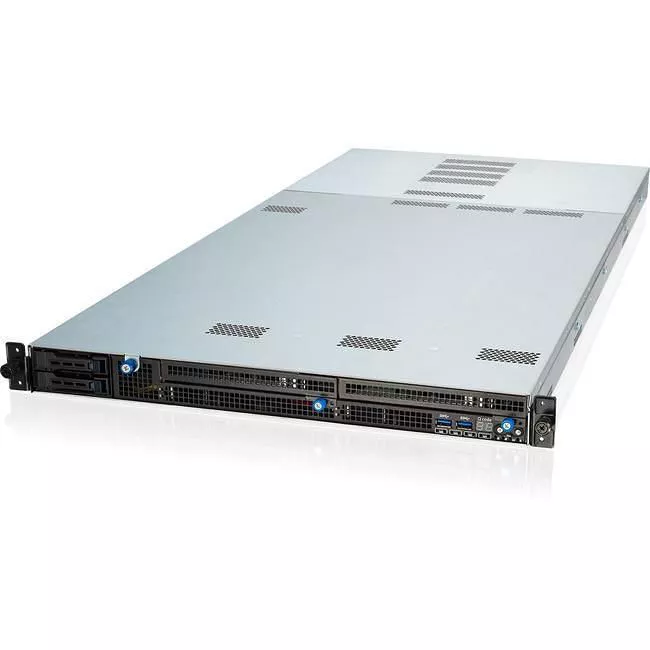 MPN: ESC4000 DHD G4
ASUS ESC4000 DHD G4 1U Rackmount Barebone - 2x LGA-3647 Socket P - Intel C621
Next-Gen server with faster performance
With the promise of 5G to deliver instantaneous connectivity to billions of devices, servers that provide faster connectivity with new and emerging technologies are necessary for wider coverage. ASUS ESC4000 DHD G4 is designed to deliver maximum capacity for high throughput performance and lower latency with support for four 2.5-inch NVMe SSDs and four M.2 SSDs. It is also equipped with dual 10G LAN ports ready for data-intensive applications and supports up to two dual-port 100G optionally to make your data center or edge cloud ready for upcoming networking transitions.
High-density 1U server with better overall capacity
ESC4000 DHD G4 is a high-density 1U server that delivers powerful performance for a wide variety of applications. It is powered by dual 2nd Gen Intel Xeon Scalable family processors and supports up to 16 DIMMs and up to four double-deck active or passive-cooled graphics cards in a compact 1U chassis. Its unique single-root design connected directly between the CPU and GPUs allows maximum graphics performance for AI and ML applications.
Intel® Optane™ DC Persistent Memory Ready
ASUS servers with 2nd Gen Intel Xeon Scalable processors and the latest Intel Optane™ DC Persistent Memory offer breakthrough performance with an over 88% gain in input/output operations per second (IOPS) compared to SSDs in the same configuration. They also offer a 1.8X IOPS improvement under virtualization workloads, while maintaining the same operating costs as servers with previous-generation processors. Better IOPS performance means more efficiency and improved quality when running virtualization in business environments.
Accelerate your workflows with NVIDIA NGC
ASUS is one of the partners selected by NVIDIA to deliver NGC-ready GPU-optimized servers to accelerate AI time-to-solution and simplify AI adoption for deploying CUDA-X applications.
Redundant Platinum PSU support
2200W 80 Plus Platinum power supplies with 92%+ efficiency directly reduce operating costs and capital expenses.
Exclusive Thermal Radar 2.0 for energy efficiency
Featuring two innovative intelligent detection technologies and multi-fan zone design, ASUS Thermal Radar 2.0 places different sensors on the CPU, GPU, DIMM, HDD and in other areas to collect localized heating information to designate dedicated fan flow automatically to reduce consumption of overall fan capacity. Additionally, the multi-fan zone design enables multiple fan curves for different zones to reduce operating time and cost required for manual adjustments and effectively enhances system reliability and thermal efficiency.
Comprehensive IT infrastructure management
ESC4000 DHD G4 features an embedded iKVM module and is bundled with ASUS Control Center to provide comprehensive out-of-band and in-band management features for small and mid-size businesses.
The embedded ASMB9-iKVM module supports remote BIOS updates, fan control, standalone KVMs, video recording, and BSOD capture, providing around-the-clock remote monitoring and diagnostics - even if the operating system is down or offline - through a user-friendly, web-based graphical interface that works with all major browsers.
ASUS Control Center (ACC) is a centralized and integrated IT management platform for monitoring and controlling ASUS commercial products, including servers, workstations and digital signage. ACC enables remote BIOS updates, monitoring of multiple systems via mobile devices, and one-click software updates and dispatching, allowing easier server management for any IT infrastructure.