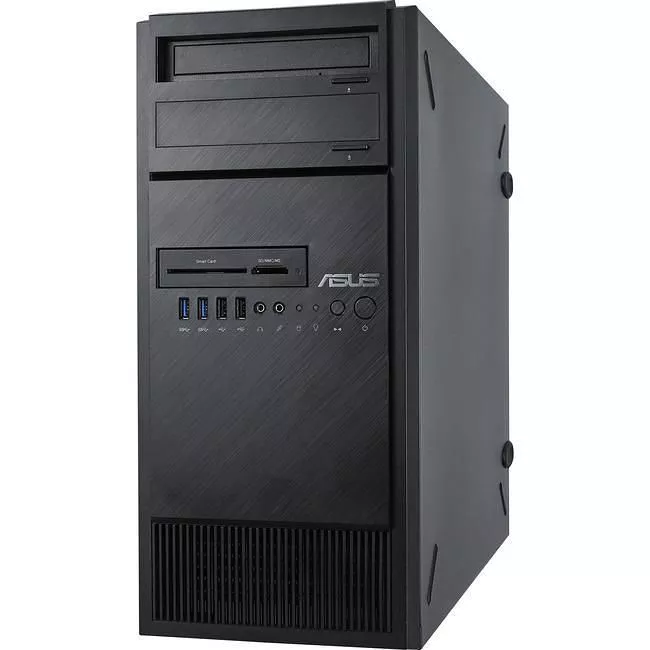 MPN: E500 G5
ASUS E500 G5 Tower Barebone - Intel C246 Chipset - 1X Socket LGA1151 - NVIDIA Quadro/AMD Radeon Pro
Intel® Xeon® E platform Workstation with up to three displays support
Powerful performance with Intel® Xeon® E processor and ECC memory
Supports up to three independent displays simultaneously via HDMI, DisplayPort, DVI-D and VGA
Improved productivity with ASUS Control Center
Graphics card support, including NVIDIA® Quadro® and AMD® Radeon™ Pro
Dual M.2 for up to 32Gbps performance and data redundancy
Convenient I/O design and ultrafast connectivity
Dual Intel® Gigabit LAN with teaming support
Enhanced security with TPM 2.0 and chassis intrusion design
Independent software vendor (ISV) certification
Powerful performance with Intel Xeon E CPUs and ECC memory
E500 G5 is built on the Intel C246 chipset and comes with a choice of the latest Intel Xeon E or 8th Generation Intel Core™ CPUs. With Intel Xeon, E500 G5 delivers powerful, optimized performance for always-on usage scenarios and supports error-correction code (ECC) memory for automatic detection and repair of single-bit memory errors, reducing the change of system crashes and data corruption to ensure reliable and responsive workstation performance.
Graphics card support
E500 G5 supports NVIDIA Quadro and AMD Radeon™ Pro graphics cards, making it the perfect workstation for content creators, media streamers and professional designers.
Supports up to three independent displays simultaneously
Designers rely on multiple displays for more efficient and comfortable productivity. E500 G5 comes equipped for total display flexibility with support for up to three independent displays via HDMI, DisplayPort, DVI-D and VGA, perfect for multitasking environments.
Improved productivity with ASUS Control Center
E500 G5 features centralized IT-management with ASUS Control Center (ACC), a comprehensive control platform with a user-friendly interface that provides access to all of your workstations from anywhere via your mobile device. It is designed to improve system reliability, facilitate easy updates and provide seamless integration for small to medium-size business and enterprises for increased productivity.
Independent software vendor (ISV) certification
Independent software vendor (ISV) software is becoming an important factor to users in variety of industries. ASUS works in close partnership with ISV vendors, such as Adobe and Autodesk, to test and verify compatibility. This ensures ASUS workstations are reliable and highly effective for users in different fields.
Dual M.2 for up to 32Gbps performance and data redundancy
E500 G5 features dual M.2 slots to unleash maximum data-transfer performance. One M.2 slot supports up to 22110-length M.2 drives via PCIe 3.0 x4 for ultrafast data access. The other M.2 slot is suitable for SATA drives or Intel®Optane memory via PCIe 3.0 x2 to speed up traditional hard drives.
Dual Intel Gigabit LAN with teaming support
For more reliable networking, E500 G5 features Intel Gigabit LAN, ensuring lower CPU utilization and temperatures, outstanding performance and better support for diverse operating systems. The dual Ethernet ports support teaming, which combines the network links to provide higher throughput or redundancy in case of port failure.