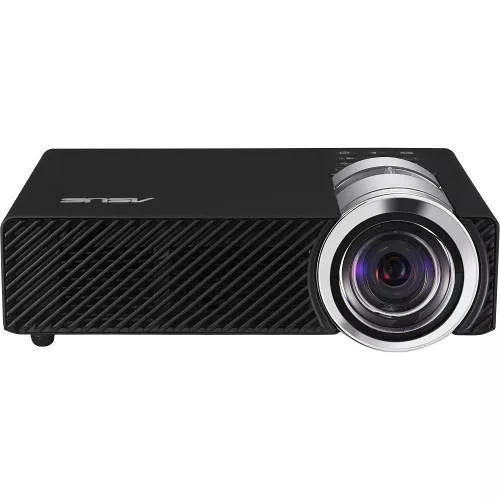 MPN: B1MR
ASUS B1MR 3D Ready DLP Projector - 16:9
Ultra-bright Wireless LED Projector
Incredibly sharp visuals with 900-lumen light output and WXGA 1280 x 800 resolution
Wireless Projection Ready lets you wirelessly connect and stream presentations
Short throw projection of 51-inch from just 1 meter from the screen
Quick setup time with instant on/off capability, auto keystone correction, and two-level kickstand design
PC-free multi-format compatibility with built-in HDMI, SD card reader, USB plus dual ASUS SonicMaster audio speakers
BRIGHT, CRISP PROJECTIONS
The ASUS B1MR Ultra-bright Wireless LED Projector delivers incredibly bright, sharp visuals with native WXGA 1280 x 800 resolution, 900 lumens light output, and a 100% NTSC color scale to project precise, detailed color images. The B1MR features a mercury-free Eco-LED light source with a 30,000-hour lifespan to cut down on maintenance and bulb-replacement costs.
3D Ready support enables B1MR to project 3D images, making lessons, videos and presentations more visually stimulating and engaging.

COMPACT PORTABLE WIRELESS PROJECTOR CUTS THE NEED FOR CABLES

The ASUS B1MR features a small Wi-Fi adapter for a direct wireless connection to a notebook PC, or Android and iOS devices. This removes the need to carry a video cable solely for presentation use, and allows presentations, documents and multimedia files to be streamed to the B1MR wirelessly from elsewhere in a room. The B1MR with ASUS WiFi Projection APP helps bring iOS and Adroid content from input device to the big screen, and also provides advanced Split Screen Control , to allow user to choose two or four split screens.
You can also easily mirror entertainment contents from devices (with Android 4.2+ OS) to big screen, without cables or a network connection, by activating B1MR's mirror casting function.

Wireless Projection with Split Screen control

QUICK, CONVENIENT SETUP IN SECONDSINSTANT ON AND OFF
The ASUS B1MR turns on in five seconds without having to warm up, and powers off without the need for a cooling-down period
AUTO KEYSTONE CORRECTION
Whatever angle the B1MR is positioned, the Auto Keystone Correction detects and corrects to ensure a straight, rectangular shape.
BIG SCREEN AT A SHORT DISTANCE
The B1MR has the best short throw ratio for you to project a 51-inch image from a distance of only 1 meter from the screen.