ASUS 90MB10C0-M0AAY0 TUF B450-PRO GAMING Desktop Motherboard - AMD Chipset - Socket AM4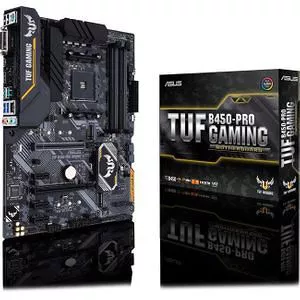 Highlights
Processor Socket: Socket AM4
Total Processor Supported: 1
Memory Technology: DDR4 SDRAM
Maximum Memory: 64 GB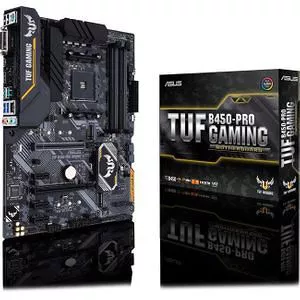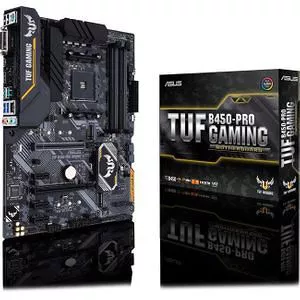 ASUS 90MB10C0-M0AAY0 TUF B450-PRO GAMING Desktop Motherboard - AMD Chipset - Socket AM4
Highlights
Processor Socket: Socket AM4
Total Processor Supported: 1
Memory Technology: DDR4 SDRAM
Maximum Memory: 64 GB
AMD B450 ATX gaming motherboard with Aura Sync RGB LED lighting, DDR4 3533MHz support, Dual M.2, and native USB 3.1 Gen 2.
Realtek S1200A Codec: Features an unprecedented 108dB signal-to-noise ratio for the stereo line-out and a 103dB SNR for the line-in, providing pristine audio quality
Exclusive DTS® Custom audio: Delivers positional cues to stereo headphones, helping you to pinpoint enemies and action
GPU Temperature Sensing & Fan Xpert 4 Core: Ensures every fan achieves the best balance of cooling performance and acoustics
TUF Protection: SafeSlot, ESD Guards, DDR4 overvoltage protection, Digi+ VRM, and stainless-steel back I/O for long-term reliability
Military-grade TUF Components: TUF LANGuard, TUF Chokes, TUF Capacitors, and TUF MOSFETs for maximum durability
Aura Sync RGB: Synchronize LED lighting with a vast portfolio of compatible PC gear
Arm Your Battlestation
TUF Gaming motherboards are specially designed and tested to survive and thrive in conditions where other boards would struggle. Engineered with highly durable components, these motherboards deliver unwavering stability for gaming sessions that last as long as you demand.
When you build with a TUF Gaming motherboard, you also benefit from the TUF Gaming Alliance - an ASUS collaboration with trusted industry partners that ensures easier building, the best compatibility, and complementary aesthetics from components to case.
Easy PC DIY Experience
TUF Gaming motherboards offer easy and safe DIY builds by leveraging great design, innovative engineering, and strong partnerships with major component manufacturers. The unrivalled combination of military-grade TUF Components, TUF Protection and the TUF Gaming Alliance means that you can rest assured that your gaming rig will go the distance.
TUF gaming alliance
TUF Gaming Alliance is a collaboration between ASUS and trusted PC-component brands to ensure compatibility with a wide range of parts, such as PC cases, power supplies, CPU coolers, memory kits and more. With more partnerships and components being added regularly, the TUF Gaming Alliance will continue to grow even stronger.
TUF PROTECTION

SAFESLOT
Protect your graphics card investment
SafeSlot is the PCIe slot reinvented by ASUS and engineered to provide superior retention and shearing resistance. Manufactured in a single step using a new insert-molding process, SafeSlot integrates fortifying metal for an inherently stronger slot, which is then firmly anchored to the PCB through additional solder points.
ESD GUARDS
Electrostatic discharge protection
ESD Guards prolong the life of components while preventing damage from electrostatic discharge, providing protection for up to +/- 10kV of air discharge and +/- 6kV of contact discharge - greatly surpassing the respective industry standards of +/- 6kV and +/- 4kKV
LAN PORT
ESD TVS diode protection on the LAN Circuit.
KEYBOARDS AND MOUSE CONNECTORS
Additional on-circuit ESD transient-voltage-suppression.
VGA PROTECTION
Additional on-circuit ESD TVS diodes to protect D-Sub functionality.
USB CONNECTORS
TVS diode for surface-mount and dual-inline package.
TUF COMPONENTSTUF CHOKES
Certified military-grade TUF chokes deliver rock-steady power to the CPU, helping to improve system stability.
TUF CAPACITORS
+20% temperature tolerance and 5X-longer lifespan.