AKiTiO TBQM-TIAA-AKTU Thunder2 Quad Mini Drive Enclosure - Desktop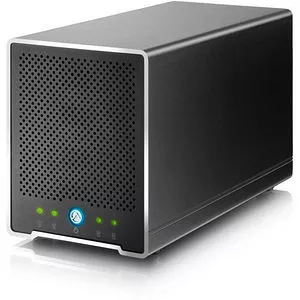 Highlights
Depth: 7.5
Number of Total Expansion Bays: 4
Product Type: Drive Enclosure
Condition: New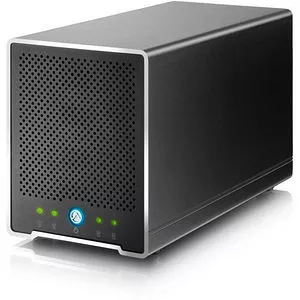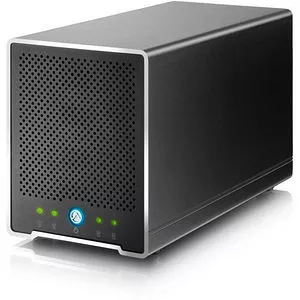 AKiTiO TBQM-TIAA-AKTU Thunder2 Quad Mini Drive Enclosure - Desktop
Highlights
Depth: 7.5
Number of Total Expansion Bays: 4
Product Type: Drive Enclosure
Condition: New
AKiTiO Thunder2 Quad Mini
Faster than ever, you can now achieve speeds of up to 1375MB/s with this 4-bay Thunderbolt™ 2 technology storage enclosure. The removable trays allow for easy installation and replacement of the drives. They are designed for 2.5 SATA 6Gb/s drives, SSDs where speed is the priority and HDDs when it's important to maximize the storage capacity. An ultra durable aluminum casing provides efficient heat dissipation, plus a large rear fan keeps your drives cool during long hours of operation.
Features
Thunderbolt™ 2 interface for lighting fast transfer speeds of up to 20Gbps
Comes with two Thunderbolt™ 2 ports, supporting storage and display
Holds up to four 2.5 drives with SATA 6Gb/s interface
Removable trays for easy SSD and/or HDD installation
Supports AKiTiO Data Multiplier application
Large fan for active cooling
High-Speed I/O Performance
By incorporating the awesome Thunderbolt 2 interface and combining it with four SSD drives in a RAID 0 software RAID, AKiTiO's Thunder2 Quad Mini is ready to deliver an extremely fast throughput performance of up to 1375MB/s. Even individually, the SATA 6Gb/s interface allows each drive to run at full SATA-III speeds.
Dual Thunderbolt Ports for Daisy Chain
The second Thunderbolt 2 port lets you daisy chain up to five Thunderbolt devices together. For example, you can attach additional external drives and even a display all connected to your computer through a single cable.
4K Workflow with Thunderbolt 2 Technology
Thunderbolt 2 technology incorporates DisplayPort 1.2 support, which allows for video streaming to a single 4K video monitor. If you are a video editor, you can now use a single port to connect your external storage drives and a 4K display.
Faster Backup and Data Duplication
With the free AKiTiO Data Multiplier application, backing up and duplicating files is faster than ever. In fact, it's about 34% faster when compared to manually copying and pasting the files. Designed with video editors and data imaging technicians in mind, the application requires only a few clicks to simultaneously copy the files from one drive and duplicate them onto up to three other drives.