AKiTiO T3RSAA0006Y00U Thunder3 RAID Station DAS Storage System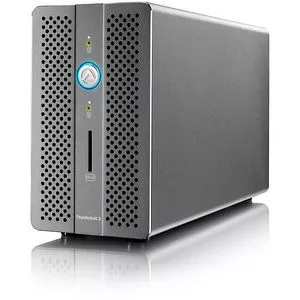 Highlights
Depth: 9.4
Number of Total Expansion Bays: 2
Product Type: DAS Storage System
Condition: New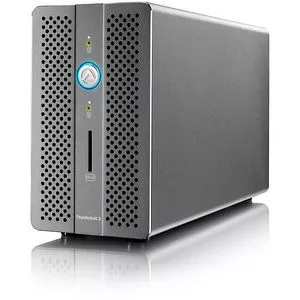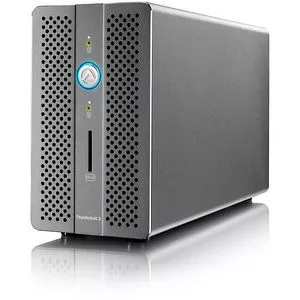 AKiTiO T3RSAA0006Y00U Thunder3 RAID Station DAS Storage System
Highlights
Depth: 9.4
Number of Total Expansion Bays: 2
Product Type: DAS Storage System
Condition: New
Thunder3 RAID Station

All-In-One Thunderbolt™ 3 Dock with RAID Storage
Expand the capabilities of your laptop and declutter your workspace with the Thunder3 RAID Station. This solution combines four essential functions every laptop user needs into one product, giving you additional storage space, providing you with important interfaces such as Gigabit Ethernet, USB and DisplayPort, recharging your battery and reading your SD cards. All this is built into a single product that connects to your laptop with a single Thunderbolt 3 cable.
Features
Thunderbolt 3 for lightning fast transfer speeds up to 40 Gbps
Second Thunderbolt 3 port supports Thunderbolt 3 (40 Gbps), USB 3.1 (10 Gbps), and DisplayPort devices
Power delivery provides up to 27W of power to recharge compatible laptops
Two USB 3.1 Gen 1 host ports with Type-A connectors for older USB devices
1 Gigabit Ethernet port supporting auto-negotiation for 1G, 100M, 10M
Hardware RAID controller (RAID 0, RAID 1, SPAN, Non-RAID)
Tool-less drive installation for 2.5-inch and 3.5-inch drives
Cooling fan with power switch for noiseless operation
Dedicated DisplayPort for additional 4K monitor
Built-in SD card reader
Thunderbolt Connectivity

Thunderbolt™ 3
Thunderbolt 3 brings Thunderbolt to USB-C at speeds up to 40 Gbps, creating one compact port that does it all - delivering the fastest, most versatile connection to any dock, display, or data device. For the first time, one computer port connects to Thunderbolt devices, every display, and billions of USB devices. A single cable now provides four times the data and twice the video bandwidth of any other cable, while also supplying power to bus-powered devices.
The second Thunderbolt 3 port on the Thunder3 RAID Station operates the same as a Thunderbolt 3 computer port by supporting Thunderbolt 3 (up to 5 daisy chained), USB 3.1 (10 Gbps), and DisplayPort devices.
Thunderbolt 3 Dock
USB 3.1 Gen 1 Host Ports
The two USB 3.1 Gen 1 host ports make it easy to connect your USB devices that come with a Type-A connector to your laptop. Instead of buying an adapter or new cables, simply plug your existing USB devices into the Thunder3 RAID Station and you are all set.
Gigabit Ethernet Port
The Gigabit Ethernet interface is ideal for notebooks that require reliable, accelerated access to external storage and networks for I/O demanding applications but typically lack 1GbE connectivity or the capability to deploy an internal PCIe network card (NIC).
DisplayPort
The dedicated DisplayPort connector makes it easy to connect an additional monitor to extend your workspace. This video output capability requires a Thunderbolt 3 connection to the computer and will free up the second Thunderbolt 3 port for Thunderbolt 3 (up to 5 daisy chained), USB 3.1 (10 Gbps), and DisplayPort devices.
SD Card Reader
A card reader for your SD cards exactly where you need it. Plug in your card and backup your media files straight to the external drive.