AKiTiO NEUB-U3AB-AKT Neutrino Bridge Drive Enclosure - Internal/External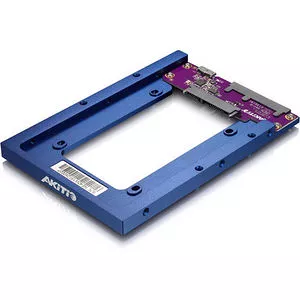 Highlights
Depth: 5.8
Number of Total Expansion Bays: 1
Product Type: Drive Enclosure
Condition: New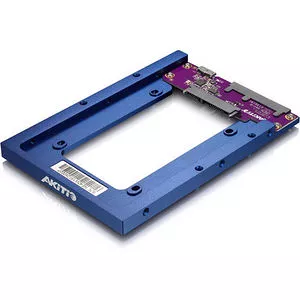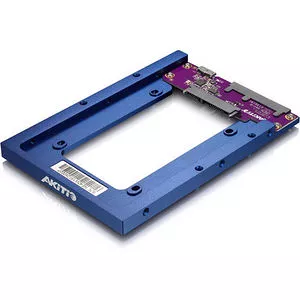 AKiTiO NEUB-U3AB-AKT Neutrino Bridge Drive Enclosure - Internal/External
Highlights
Depth: 5.8
Number of Total Expansion Bays: 1
Product Type: Drive Enclosure
Condition: New
Neutrino Bridge
The Neutrino Bridge is a two in one product designed to hold a single 2.5 drive. It is both a 2.5 to 3.5 drive adapter with a regular internal SATA interface as well as a next generation USB 3.1 Gen 2 (10G) drive when connected externally. Quickly and easily accessing the data on an SSD has never been easier and faster than with this dual interface drive adapter.
Features
USB 3.1 Gen 2 interface with transfer speeds up to 10 Gbps
Dual-interface with USB 3.1 and SATA connectivity
Supports Universal Attached SCSI Protocol (UASP)
Backwards compatible with USB 3.0 and USB 2.0 devices
Supports SATA-III drives for increased transfer rates
Fully bus powered (can be used without power adapter)
LED activity indication for USB interface
High quality all aluminum frame
SuperSpeed USB 3.1 Gen 2 (10G)
The SuperSpeed USB 10 Gbps (USB 3.1) specification adds a 10 Gbps speed mode that uses a more efficient data encoding and will deliver more than twice the effective data through-put performance of existing SuperSpeed USB. At the same time, especially with the regular USB 3.0 Micro-B connector that is used in the Neutrino Bridge, it is still fully backwards compatible with existing 5 Gbps USB 3.0 devices and cables as well as USB 2.0 products.
To achieve the best possible transfer rates, make sure that the host computer supports the new USB 10 Gbps (USB 3.1 Gen 2) specification and use a short cable under 50 cm.
2.5 to 3.5 Drive Adapter
Many external hard drive enclosures are designed for the larger 3.5 desktop drives and have no mounting options for the smaller 2.5 drives. With this 2.5 to 3.5 drive adapter, you can now install your SSD or laptop drive in any device or drive slot designed for desktop drives, making it possible to use your existing equipment without having to buy a separate hard drive enclosure.
SSD Reader
For those that need quick access to the data on an SSD, say to backup the footage from a Blackmagic Cinema Camera or Production Camera 4K, the Neutrino Bridge can also be used as an SSD reader. All you need to do is slide in the SSD, connect it to your computer via USB and you can edit the footage right away by using bus power alone.
Benchmark
The transfer speeds below were obtained using CrystalDiskMark on a Windows 8.1 (64-bit) system with a Samsung 1TB SSD. The results show the difference in performance when using a host computer with the new 10 Gbps USB 3.1 interface and the older 5 Gbps USB 3.0 interface.