AKiTiO NEU2-TU3IAS-AKTU Neutrino Thunder D3 Drive Dock Serial ATA/600 - Thunderbolt, Mini USB 3.0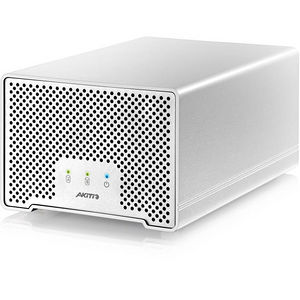 Highlights
Product Type: Drive Dock
Host Interface: Thunderbolt | Mini USB 3.0
Condition: New
Category: Storage Devices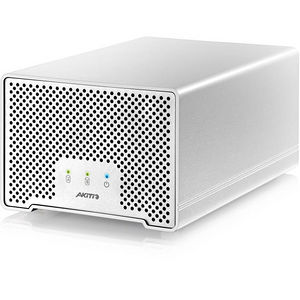 AKiTiO NEU2-TU3IAS-AKTU Neutrino Thunder D3 Drive Dock Serial ATA/600 - Thunderbolt, Mini USB 3.0
Highlights
Product Type: Drive Dock
Host Interface: Thunderbolt | Mini USB 3.0
Condition: New
Category: Storage Devices
Neutrino Thunder D3
Experience the awesome speed, performance and flexibility of Thunderbolt. This compact and easy to use device was built for speed and portability. The dual interface with USB 3.0 guarantees compatibility with all systems. The product is available bundled with either hard drives or solid state drives (SSD's) or as an empty enclosure thereby allowing users to install the drives of their choice. Convenient removable trays allow for easy removal and replacement of drives without the need for any tools. The drives are kept cool by the built-in fan.
Features
Thunderbolt for lighting fast transfer speeds of up to 10Gbps
Dual interfaces featuring Thunderbolt and USB 3.0 connectivity
Removable trays for drives up to 15mm in height
Durable, compact and portable
Built-in fan for active cooling
High-Speed I/O Performance
By incorporating the awesome Thunderbolt connection and combining it with two SSD drives that can keep up in a RAID 0 software RAID, AKiTiO's Neutrino Thunder D3 is ready to deliver an extremely fast throughput performance.
Dual Interface
The dual interface guarantees compatibility with all systems. Achieve ultra fast transfer rates with either Thunderbolt or USB 3.0 SuperSpeed but know that if necessary, you can always fall back to USB 2.0 for maximum flexibility. Hassle-free and compact, the Neutrino Thunder D3 is the ideal companion for your notebook.

Benchmark
Test Environment: Mac Book Pro (Retina, Mid 2012), Mac OS 10.8.4, Thunderbolt interface, Apple Software RAID (RAID 0), 2 x SanDisk SSD P5 256GB, Blackmagic Disk Speed Test v2.1