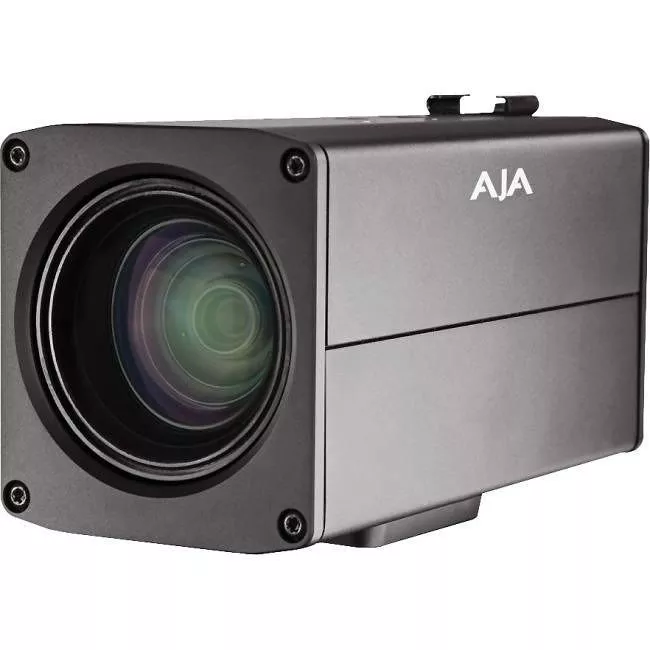 MPN: ROVOCAM
AJA ROVOCAM Integrated UltraHD/HD Camera with HDBaseT (w/ PoH)
RovoCam is AJA's first compact block camera for industrial, corporate, security, ProAV and broadcast
applications. RovoCam's HDBaseT interface supports control of UltraHD video, power, stereo audio and RS-232 over a single Cat 5e/6 cable.

There are two companion receivers to choose from; RovoRx-HDMI offers the simplest integration with an HDMI output, stereo audio out, control and power. RovoRx-SDI offers both 6G/3G-SDI and HDMI outputs, plus Genlock and other professional features. Both units provide PoH (Power over HDBaseT) to power RovoCam from a distance. Each interfaces with RovoControl, powerful control software for Mac and PC, offering full control of RovoCam's numerous advanced features.
Superior Optics,
Simply Delivered
RovoCam's marriage of lens to delivery begins with superior Sony optics, complete with built-in 12x optical zoom and up to 20x zoom with Sony Super Resolution Zoom and autofocus or manual focus capabilities; all easily controlled remotely via Sony's VISCA protocol.
RovoCam is built around Sony's 4K (Sony FCB-ER8300) camera module featuring a back illuminated CMOS sensor and Sony image processing for excellent performance.
What sets RovoCam apart from other cameras in its category, is an integrated HDBaseT interface supporting uncompressed video, power, stereo audio and RS-232 control over a single Cat 5e/6 cable running at lengths of up to 100 meters.
Delivering this much functionality and power with single cable connectivity dramatically simplifies installation, camera setup and footprint requirements.
Distance, Power and Control. All Over a Single Cable.
HDBaseT sits at the heart of RovoCam.
RovoCam itself features an integrated HDBaseT transmitter. Not only does HDBaseT offer affordable long cable runs up to 100 meters over standard Cat5e/6 cables, it also passes RovoCam's gorgeous UltraHD/HD imagery, audio, control of the camera, and power to the unit.
A single Cat 5e/6 cable carries all uncompressed video, 2-Channel audio, VISCA camera control, and power for the simplest installation ever due to RovoCam's integrated HDBaseT interface.
Connectivity:
1 x HDBaseT connector (RJ-45) allowing camera interaction and control, uncompressed video, audio and power all over one Cat 5e/6 cable.
1 x 3.5mm Stereo Mic audio input
1 x 3.5mm RS-232 input
1 x local power connector
Robust, Reliable, Desirable
RovoCam is small enough to fit in the palm of your hand. Built of rugged aluminum, RovoCam is reliable and built for serious use, and its light weight and compact body allows simple mounting in a wide range of scenarios. From tripod, stage, conference room to security camera mounts, RovoCam can go wherever you need it to.
RovoCam is also compatible with standard Sony outdoor housings, ensuring reliable performance in all outdoor environments.