AJA CORVID 3G LP Low-Profile Version of Corvid 3G, no RS-422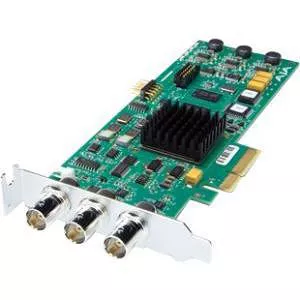 Highlights
Product Type: Video Capturing Device
Maximum Resolution: 2048 x 1080
Platform Supported: Mac | PC
Host Interface: PCI Express x4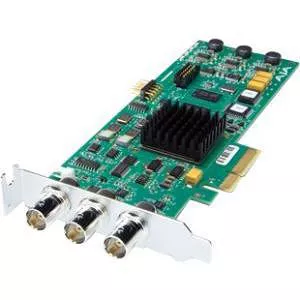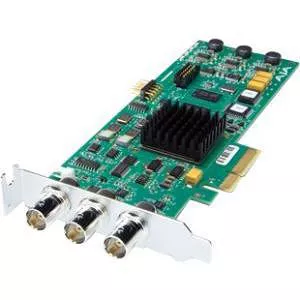 AJA CORVID 3G LP Low-Profile Version of Corvid 3G, no RS-422
Highlights
Product Type: Video Capturing Device
Maximum Resolution: 2048 x 1080
Platform Supported: Mac | PC
Host Interface: PCI Express x4
PCIe 4x Card for 8/10-Bit Uncompressed Digital 3G, HD, and SD I/O
Corvid 3G expands on the capabilities of the original Corvid with support for 3G signals, opening up the possibility for handling higher quality signals while still providing all the benefits of the Corvid card. Available in a standard sized PCIe card or Low Profile for when space is of the essence, Corvid 3G has the extra horsepower for more demanding applications.
Features
PCI Express 4 lane
1 Channel 3G, HD-SDI or SD-SDI input, 1 Channel 3G, HD-SDI or SD-SDI output
8/10-bit YCbCr and RGB framebuffer formats
1 Mixer/Keyer
Available in PCIe form factor (Corvid 3G) or PCIe Low Profile form factor (Corvid 3G LP)
16-Ch SDI embedded audio I/O, 24-bit 48 kHz
HD/SD Genlock, Reference Video or LTC Input (selectable)
Three year warranty
Powerful Platforms for Development Partners
AJA's Developer Program allows partner companies to incorporate AJA products into their systems. By utilizing existing, proven video I/O devices, Developer Partners leverage AJA's expertise to develop and support these technologies, saving money and getting their integrated products to market more quickly.