AJA CORVID 22 4-lane PCIe card, 2-in/2-out HD/SD/3G SDI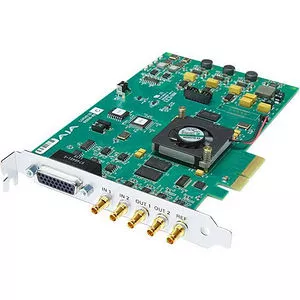 Highlights
Product Type: Video Capturing Device
Maximum Resolution: 2048 x 1080
Host Interface: PCI Express 1.0 x4
Form Factor: Plug-in Card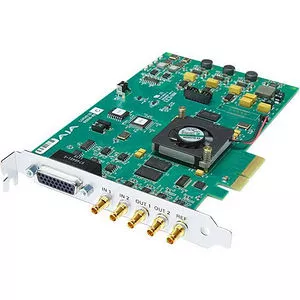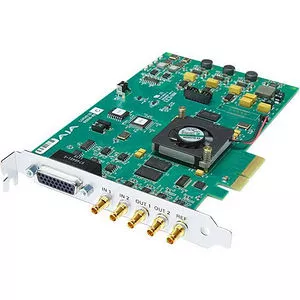 AJA CORVID 22 4-lane PCIe card, 2-in/2-out HD/SD/3G SDI
Highlights
Product Type: Video Capturing Device
Maximum Resolution: 2048 x 1080
Host Interface: PCI Express 1.0 x4
Form Factor: Plug-in Card
PCIe Gen 1.0 4x Card for 8/10-bit Uncompressed with 2 Channels I/O Digital 3G, HD, SD-SDI I/O
Get multiple I/O channels without taking up a lot of space. Corvid 22 provides high performance, dual channel video and embedded 24-bit audio I/O in a single PCIe card. Two completely independent channels handle resolutions up to 2K and high frame rate 3G as well. With separate LTC and RS-422 machine control per channel and support for multiple operating systems, Corvid 22 gives you all the performance and capabilities you need.
Features
PCI Express 4-lane
2 Channels 3G, HD-SDI or SD-SDI Input, 2 Channels 3G, HD-SDI or SD-SDI Output
All SD/HD/2K x 1080 Video Formats
3G Input/Output for 1080p 50/60 and Video/Key (dual link not supported)
8/10-Bit YCbCr and RGB frame buffer formats
2 Mixer/Keyer widgets. This allows output of two simultaneous video/key pairs over 3G. It also allows for up to two simultaneous downstream keyers.
2 Independent 16-Ch 48 kHz SDI Embedded Audio I/O engines
Analog Color Black or HD Tri-Level Sync
Three year warranty
Powerful Platforms for Development Partners
AJA's Developer Program allows partner companies to incorporate AJA products into their systems. By utilizing existing, proven video I/O devices, Developer Partners leverage AJA's expertise to develop and support these technologies, saving money and getting their integrated products to market more quickly.