AJA ADA4-R0 Audio A/D and D/A Converter, 4-Channel bidirectional, balanced XLR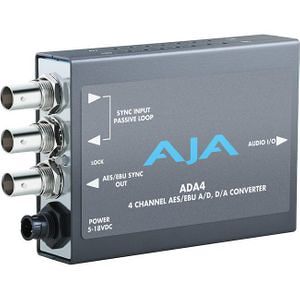 Highlights
Product Type: Bi-Directional Audio Converter
Condition: New
Category: Video Cards and Devices
Subcategory: Video Devices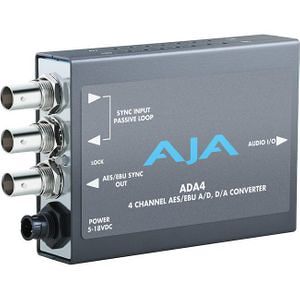 AJA ADA4-R0 Audio A/D and D/A Converter, 4-Channel bidirectional, balanced XLR
Highlights
Product Type: Bi-Directional Audio Converter
Condition: New
Category: Video Cards and Devices
Subcategory: Video Devices
The ADA4 is a 4-channel converter that can be configured as a 4-channel A/D, a 4-channel D/A, 2-channel A/D and 2-channel D/A, or an AES synchronizer.
Supplied Breakout Cable
The included breakout cable provides the audio connections for ADA4, allowing 8 channels of AES audio input and output while keeping the overall size of the Mini-Converter compact and portable.
External Sync
ADA4 accepts an AES11, wordclock or video sync/color black reference input for synchronization. Reference input and synchronization are automatic with a passive looping reference as well as a separate AES sync output.
Quick configuration
Easy-to-access DIP switches allow the audio levels on ADA4 to be configured quickly and clearly while in the midst of a production.
Features
Simultaneous A/D and D/A, or AES Synchronizer
Full-time AES11 low jitter reference output
Up to 4 channels of balanced analog to AES/EBU audio
Up to 4 channels of AES/EBU to balanced analog audio
Supplied XLR breakout cable
AES11/Wordclock/Tri-level Sync/Color Black Reference Loop
Adjustable Audio Levels
Sample Rate Conversion Between 96KHz and 48KHz
Dipswitch configuration 5-18VDC Power
Universal Power Supply
All AJA Mini-Converters ship with a universal power supply that includes international plug connections for use around the world.
Compact and Portable
AJA Mini-Converters are small enough to fit behind a monitor, in the back of a rack or directly on a camera rig. A locking power connector can't accidentally pull loose and an optional P-TAP power cable allows for battery power in remote locations.
AJA Quality - Guaranteed
All AJA Mini-Converters are covered by a five year warranty and AJA's advanced replacement policy. If a replacement is necessary, AJA will ship a new unit immediately without the need to send the original unit back first, ensuring you are up and running again as quickly as possible.
AJA Mini-Matrix
Information on the complete line of AJA Mini-Converters is now available as a mobile app on iOS. The Mini-Converter product line is extensive and this app helps you find the right converter for any situation, wherever you are.
Individual products have links back to the main AJA website for more details and you can email product information directly from the app. The free AJA Mini-Matrix app for iPad® and iPhone® is available now in the Apple iTunes® Store.