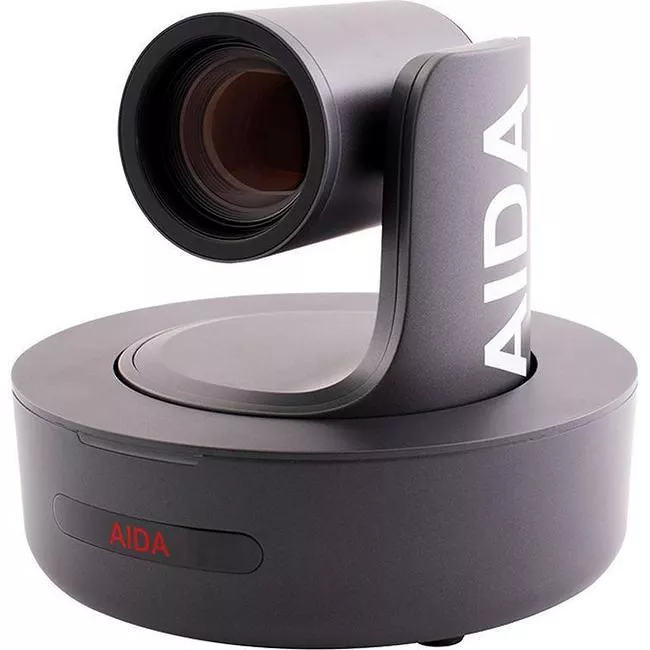 MPN: PTZ-NDI-X12
AIDA PTZ-NDI-X12 Full HD NDI Broadcast PTZ Camera
Capturing The Unreachable with NDI®
The PTZ-NDI-X12 is AIDA's first camera to utilize NDI®|HX2 technology. The camera features Newteks NDI®|HX2 to help ease production with seamless video transfer over almost any existing network infrastructure. With integrated RS232 and VISCA over IP camera control, this camera is compatible with most IP based controllers, simplifying existing workflows with better cable management. The camera features traditional multi video format outputs such as 3G-SDI, HDMI, USB 3.0, as well as online video outputs RTSP/RTMP. Our camera's cost effective approach makes professional grade PTZ cameras, at the fraction of the price.
NDI®|HX2, NewTek's innovative Network Device Interface technology, is a royalty free standard enabling IP video workflows across Ethernet networks. NDI®|HX2 is a bi-directional standard that allows video systems to identify and communicate with one another over IP, and to encode, transmit, and receive multiple streams of broadcast-quality, low latency, frame-accurate video and audio in real time. The NDI®|HX2 encoding algorithm is resolution and frame rate independent, supporting up to 4K and beyond, as well as multi-channel, floating-point audio up to 16 channels and beyond. NDI®|HX2 also includes tools to implement video access and grouping, bi-directional metadata, tally, and more.
MAIN FEATURES
NDI®|HX2 streaming capable for low latency video streaming and PTZ control over NDI®|HX2 Protocol.
Full HD Progressive Scan sensor captures sharp and vivid color under different light conditions.
Advanced digital image processor provides vivid and detailed images with full access feature sets.
Motion-compensated temporal noise reduction filter leads to effective noise reduction for motion
video without blur.
3G/HD-SDI, HDMI, RJ-45, USB 3.0, and USB 2.0 for versatility and seamless video performance.
Power Optical Zoom capability up to 12X.
Compatible with other industry leading products, conforming with SMPTE 424M/292M standard.
Auto White Balance and shutter speed provides the optimized performance in a variety of situations.
Built-in OSD controls for customizable image settings.
Versatile and compact.