ADATA ASX950USS-480GT-C XPG SX950U 480 GB Solid State Drive - SATA/600 - 2.5" Drive - Internal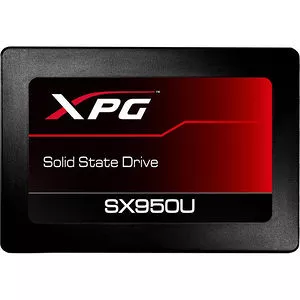 Highlights
Storage Capacity: 480 GB
Drive Interface: SATA
Maximum Read Transfer Rate: 560 MB/s
Maximum Write Transfer Rate: 520 MB/s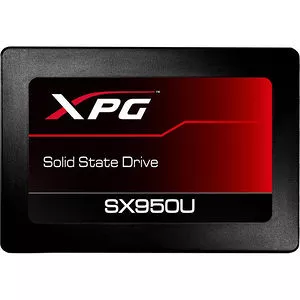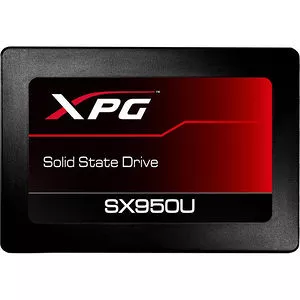 ADATA ASX950USS-480GT-C XPG SX950U 480 GB Solid State Drive - SATA/600 - 2.5" Drive - Internal
Highlights
Storage Capacity: 480 GB
Drive Interface: SATA
Maximum Read Transfer Rate: 560 MB/s
Maximum Write Transfer Rate: 520 MB/s
The SX950U is developed specifically for gamers, which utilizes the latest 3D NAND flash technology to boost system performance and provide higher reliability in comparison to 2D NAND solutions. The SX950U is equipped with Intelligent SLC Caching and DRAM Cache Buffer functions to address the challenges that gamers encounter by accelerating the read/write performance. To ensure data integrity and the safety of data transmission, the SX950U features LDPC ECC and RAID Engine technologies. The SX950U is designed to give gamers a mind-blowing gaming experience, allowing them to focus on their glorious victory on the battlefield!
3D NAND Meets High Performance
The SX950U uses of 3D NAND Flash to reach larger capacities of up to 960GB by stacking more layers vertically and generating better performance and endurance compared to 2D NAND SSDs. Gamers can store more favorable games and data on the SX950U. Thanks to the features of the SX950U, it will be a reliable companion through your gaming journey!
Prompt Game Loading and Data Transfer - No More Long Waits!
The SX950U achieves significantly higher read/write speeds up to 560/520MB/s for fast system boot up and rapid application response to meet the demand for the profesiional gamers, no more waiting, start fighting!
LDPC ECC for Increased Data Integrity
LDPC ECC (Low density parity check error correcting code) Engine is implemented on the SX950U. It is able to correct data transmission errors and ensure the safety of the data, providing a better user experience and extending the lifespan of the SSD.
Intelligent SLC Caching and DRAM Cache Buffer
The SX950U supports intelligent SLC Caching and DRAM cache buffer, which accelerates the sequential and 4K random read/write speeds. Faster read and write speeds means less time spent on loading screens!
RAID Engine and Data Shaping for Extended Life
By supporting RAID Engine and Data Shaping, the SX950U ensures data integrity and provides an extended lifespan with superior stability.