Experience Extreme Mobility
Designed around the notion of extreme mobility of compute and reproducible science, Singularity enables users to have full control of their operating system environment. This means that a non-privileged user can "swap out" the operating system on the host for one they control. If the host system is running RHEL6 but your application runs in Ubuntu, you can create an Ubuntu image, install your applications into that image, copy the image to another host, and run your application on that host in its native Ubuntu environment.

Singularity and Docker
The Singularity software can import your Docker images without having Docker installed or being a superuser. If you already have a Docker container you can import/shell/run it directly into Singularity, and your collaborator won't have to go through the pain of installing missing dependencies.
Singularity Single Image Container
Singularity makes use of a container image file, which physically contains the container. This file is a physical representation of the container environment itself. If you obtain an interactive shell within a Singularity container, you are literally running within that file.

This simplifies management of files to the element of least surprise, basic file permission. If you either own a container image, or have read access to that container image, you can start a shell inside that image. If you wish to disable or limit access to a shared image, you simply change the permission ACLs to that file.
Feature Highlights
Provide users endless possibilities for creative expression and offer a dynamic way to deliver art and information
Permission/access to the container is managed via standard file system permissions
Large scale performance (especially over parallel file systems) is very efficient
No caching of the image contents to run (especially nice on clusters)
Container is a sparse file so it only consumes the disk space actually used
Changes are implemented in real time (image grows and shrinks as needed)
Supported Container Formats
directory: standard Unix directories
tar.gz: zlib compressed tar archives
tar.bz2: bzip2 compressed tar archives
tar: uncompressed tar archives
cpio.gz: zlib compressed CPIO archives
cpio: uncompressed CPIO archives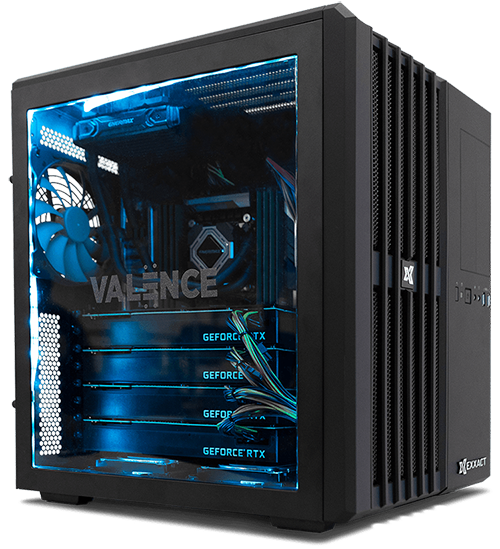 Exxact Deep Learning GPU Solutions
Our deep learning GPU solutions are powered by the leading hardware, software, and systems engineering. Each system comes with our pre-installed deep learning software stack and are fully turnkey to run right out of the box.
SHOP NOW