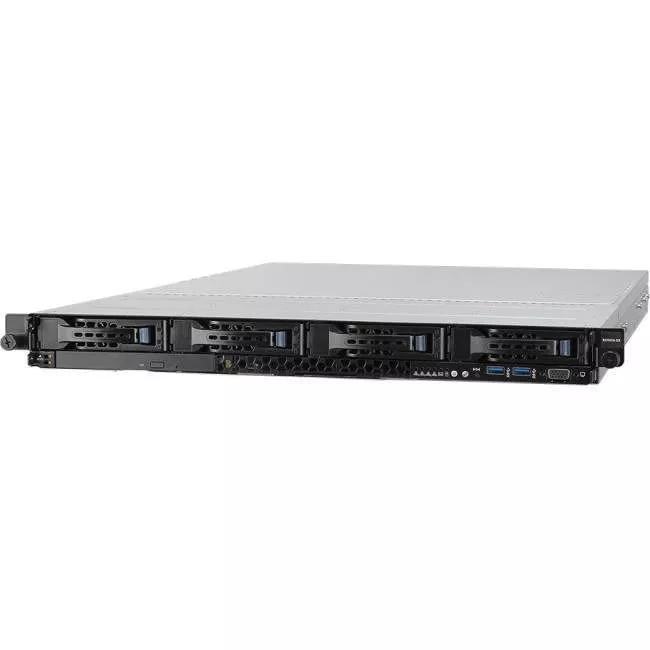 MPN: RS500A-E9-RS4
ASUS RS500A-E9-RS4 Server Barebone - 1X AMD Epyc 7000 Series Processor
Top performance in industry-standard SPEC benchmarks
RS500A-E9-RS4 is built on AMD EPYC™ platform to deliver incredible server performance. With up to 32 cores per CPU and up to 64 threads, RS500A-E9-RS4 packs incredible power in minimal space. 16 DIMM slots provide best-in-class memory capacity and bandwidth, and an integrated I/O controller on the processor
Flexible expansion for better storage and networking
RS500A-E9-RS4 features one PCIe x16 and one PCIe x8 slots to deliver parallel computing power and one OCP 2.0 Mezzanine connector to support high-speed LAN card. This flexibility supports diverse storage and networking applications and ensures future expandability and high scalability in a 1U server.
RS500-E9-RS4 fits four 3.5-inch hot-swappable 12Gbps SAS or 6Gbps SATA drives. One M.2 slot accommodate 22110-size SSDs with support for additional OS storage and PCIe Gen3 x4 bandwidth - 5.3X faster than 6 Gb/s SATA III - for faster boot speeds.
Exclusive Thermal Radar technology for energy efficiency
RS500A-E9-RS4 features ASUS-exclusive Thermal Radar technology with ambient sensors placed in CPU, memory, NVMe, SSD, OCP mezzanine connector for internal and external temperature monitoring, and dynamic fan-curve adjustment, which lowers fan power consumption by up to 20% and reduces total cost of ownership - ideal for data centers with extreme workloads.
Redundant Platinum PSU support
RS500A-E9-RS4 supports redundant 770W 80 Plus Platinum power supply, which are 96%+ efficient, directly reducing operating costs and capital expenses. The 1+1 power-supply design allows the server to keep working even if one power supply requires maintenance, enabling uninterrupted operation.
Comprehensive IT Infrastructure Management
RS500A-E9-RS4 features an embedded iKVM module and is bundled with ASUS Control Center to provide comprehensive out-of-band and in-band management features for small and mid-size businesses.
The embedded ASMB9-iKVM module supports remote BIOS updates, fan control, standalone KVMs, video recording, and BSOD capture, providing around-the-clock remote monitoring and diagnostics - even if the operating system is down or offline - through a user-friendly, web-based graphical interface that works with all major browsers.
ASUS Control Center (ACC) is a centralized and integrated IT management platform for monitoring and controlling ASUS commercial products, including servers, workstations and digital signage. ACC enables remote BIOS updates, monitoring of multiple systems via mobile devices, and one-click software updates and dispatching, allowing easier server management for any IT infrastructure.
ASUS ProCool connector
ASUS ProCool power connectors are designed without any hollow areas, enabling lower impedance, faster heat dissipation and cooler operating temperatures for reduced power loss and increased cost savings.