ASUS MCB-10G-2S 10GbE SFP+ OCP Network Mezzanine Card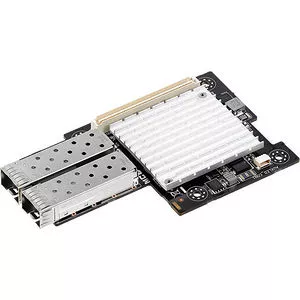 Highlights
Media Type Supported: Optical Fiber
Network Technology: 10GBase-LR | 10GBase-SR
Total Number of Ports: 2
Product Type: 10Gigabit Ethernet Card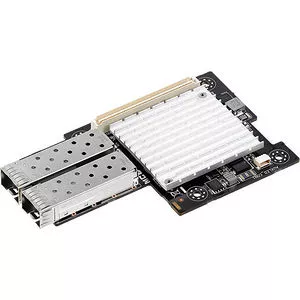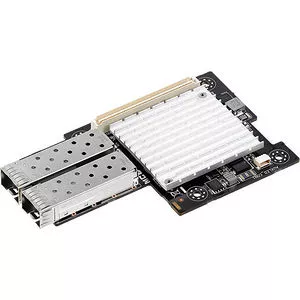 ASUS MCB-10G-2S 10GbE SFP+ OCP Network Mezzanine Card
Highlights
Media Type Supported: Optical Fiber
Network Technology: 10GBase-LR | 10GBase-SR
Total Number of Ports: 2
Product Type: 10Gigabit Ethernet Card
10GbE SFP+ OCP Network Mezzanine Card

Open Compute Project

The ASUS MCB-10G-2S is designed for use with Open Compute Project Intel v2.0 motherboards which features PCI-E 3.0 interface and OCP form factor. It allows users integrate the mezzanine card in OCP motherboards or systems easily and flexibly. MCB-10G-2S provides a flexible and perfect fit for Open Compute Project integrations.

Keep pace with the 10Gb/s trends

More and more applications require high-bandwidth to transfer large data, especially data center, HPC, web-hosting and enterprise uses. New 10Gb/s Ethernet is an ideal technology for moving large amounts of data quickly, more than sufficient for the network needs of large scale virtual machines and virtualization environments. The bandwidth it provides in conjunction with server consolidation is highly advantageous for cloud computing, virtualization software, web caching, real time application response, databases, social networking and business logic apps, science simulations, and professional modeling.

Enabling fiber and copper solutions for different data center applications

The ASUS MCB-10G-2S OCP network mezzanine card provides a flexible, scalable, and affordable approach for customers who wants to upgrade interconnect speeds from the current 1Gb/s to 10Gb/s. With the MCB-10G-2S OCP network mezzanine card, users are able to tap fiber technology over SFP+ SR (short range) and LR (long range) optical modules, or to enable copper solution over direct attach passive twin-ax cable. SFP+ fiber solution is suitable for longer distance communication, while SFP+ direct-attach copper solution is best when utilized in short lengths, typically 5m or less, which is sufficient to link server cards and switches. By applying with different module types and cables, the MCB-10G-2S OCP network mezzanine card can meet a wide range distances and various customers' needs for different network architecture.