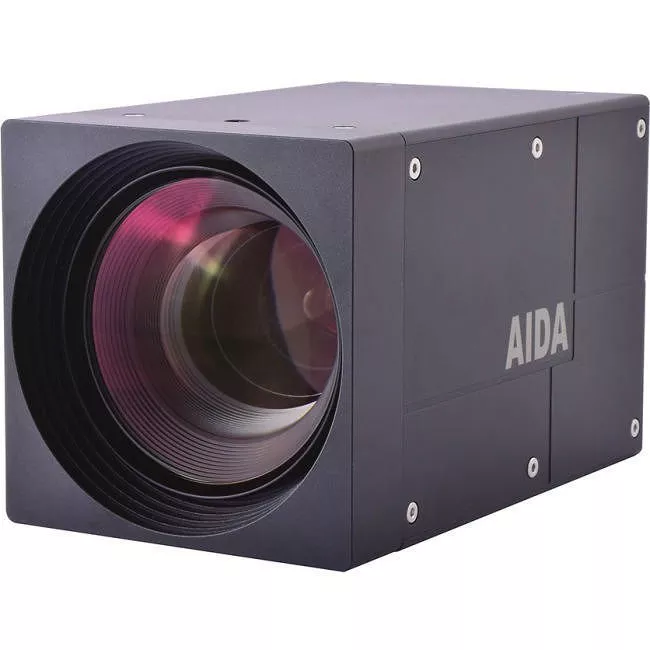 MPN: UHD6G-X12L
AIDA UHD6G-X12L 4K/UHD 6G-SDI POV Camera
4K EFP Zoom Camera - Professional 12X Zoom EFP Camera
UHD6G-X12L is a professional 4K EFP camera solution that houses a superior 12X 4K lens zoom module. The UHD6G-X12L features a 1/1.7 Progressive Scan CMOS image sensor capable of 4K (4092 x 2160) with significantly enhanced imaging characteristics including sensitivity and low noise under low light conditions. Powered by a back-illuminated pixel technology, the UHD6G-X12L realizes 4K high picture quality in the visible light with wide dynamic range. The UHD6G-X12L is robust in its physical features with expanded control sets via VISCA protocol, audio and dual video (6G-SDI & HDMI 1.4) simultaneous output interfaces. Designed for versatility, durability, and cost effectiveness for a smooth integration into any broadcast, professional or corporate AV environment.
MAIN FEATURES

4K 1/1.7 Progressive Scan CMOS sensor capable of 4K (4092 x 2160) captures sharp and vivid images even under very low light conditions.
Power by a back-illuminated pixel technology.
Superior 4K 12X optical zoom.
Advanced digital imaging processor provides vivid and detailed images by utilizing Dynamic
Range, Auto White Balance, and Noise Reduction.
Superb motion-compensated temporal noise reduction filter for motion video without blurring.
OSD control breakout cable with audio input and RS-485 for remote communication.
Dual video simultaneous output interfaces 6G-SDI & HDMI.
Flawlessly relays multi-channel embedded audio via 6G-SDI & HDMI.
Perfectly suited for broadcast, pro audio/video, and security.
Conforming with SMPTE 292M, 424M and 2081-10.
Versatile, compact, and rugged design.