Exxact Corporation, a leading provider of high performance computing solutions and professional workstationgraphics, announced today its planned production of the Valence VWS-264608-NQV Development Workstation. The system, expected to be among the first powered with the newly announced Pascal-based NVIDIA® Quadro® GP100, features NVIDIA NVLink™ technology, which scales multiple GPUs for unmatched desktop compute capability and reduced simulation times.

"We are pleased to reveal our Valence Development Workstation featuring Quadro GP100 and NVIDIA NVLink technology, " said Jason Chen, Vice President of Exxact Corporation. "The Valence VWS-264608-NQV Development Workstation will utilize multiple Quadro GP100s interconnected via NVLink to provide high-end graphical and compute performance, unified to streamline workflows for engineers, designers, and researchers alike."

"Artificial intelligence, virtual reality and photorealism are central to today's most demanding workflows," said Bob Pette, Vice President of Professional Visualization at NVIDIA. "Equipped with Quadro GP100 GPU technology, the Valence Development Workstation will provide an enterprise-grade visual computing platform invaluable to those who require extreme render and compute capabilities for larger datasets."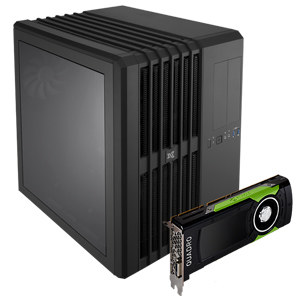 The Valence VWS-264608-NQV will feature an Intel® Core™ i7 or Xeon™ E5-2600/1600 v3/v4 processor and offer the option of either one or two pairs of Quadro GP100 cards interconnected via NVLink to utilize a high-bandwidth, energy-efficient interconnect enabling ultra-fast communication between the GPUs themselves. NVLink technology allows data sharing at rates five to 12 times faster than the traditional PCIe Gen3 interconnect, creating dramatic speed increases in application performance. A pair of Quadro GP100 GPUs in the Valence VWS-264608-NQV will increase the effective memory footprint and scale application performance by enabling GPU-to-GPU data transfers at rates up to 80 GB/s (bidirectional).
Equipped with the latest Quadro GP100 technology, the Valence VWS-264608-NQV will enable engineers, designers, researchers, and artists to:
Unify simulation, HPC, rendering and design – A single Quadro GP100 combines unprecedented double precision performance with 16GB of high-bandwidth memory (HBM2) so users can conduct simulations during the design process and gather realistic multiphysics simulations faster than ever before. By combining two of the GPUs with NVLink technology, customers can scale to 32GB of HBM2 to create a massive visual computing solution on a single workstation.
Explore deep learning – One Quadro GP100 provides more than 20 TFLOPS of 16-bit floating point precision computing — making it an ideal development platform to enable deep learning in Windows and Linux environments.
Incorporate VR into design and simulation workflows – The "VR Ready" Quadro GP100 has the power to create detailed, lifelike, and immersive environments. Larger, more complex designs can be experienced at scale.
Reap the benefits of photorealistic design – Pascal-based Quadro GPUs can render photorealistic images more than 18 times faster than a CPU.
Create expansive visual workspaces – Visualize data in high resolution and HDR color on up to four 5K displays
The Quadro GP100 GPU is the most versatile computing powerhouse for professional desktops. Able to deliver more than 5 TFLOPS of double-precision (FP64), 10 TFLOPS of single-precision (FP32), and 20 TFLOPS of half-precision (FP16) performance, the card supports a wide range of compute-intensive workloads flawlessly. It is equipped with 16GB of high-bandwidth memory (HBM2), offering one of the industry's fastest graphics memory currently available (717GB/s peak bandwidth) and making it the ideal platform for latency-sensitive applications that handle large datasets. With 16-bit floating point precision computing, the Quadro GP100 provides double the throughput and reduces storage requirements to enable the training and deployment of larger neural networks.

Exxact Quantum series of servers featuring the new Intel Xeon Scalable processors are now available for order. For more information, please contact the Exxact Sales Department here: https://exxactcorp.com/contact
About Exxact Corporation
Exxact develops and manufactures innovative computing platforms and solutions that include workstation, server, cluster, and storage products developed for Life Sciences, HPC, Big Data, Cloud, Visualization, Video Wall, and AV applications. With a full range of engineering and logistics services, including consultancy, initial solution validation, manufacturing, implementation, and support, Exxact enables their customers to solve complex computing challenges, meet product development deadlines, improve resource utilization, reduce energy consumption, and maintain a competitive edge. Visit Exxact Corporation at www.exxactcorp.com