Bright Cluster Manager
Bright Cluster Manager for HPC lets you deploy complete clusters over bare metal and manage them effectively. It provides single-pane-of-glass management for the hardware, the operating system, HPC software, and users.

With Bright, users receive the most powerful, vendor-independent cluster management software solution available. Its intuitive management console, scalable architecture, and breadth of integration are unparalleled in the market. Bright is easy for:
User friendliness
Keras is an API designed for human beings, not machines. It puts user experience front and center. Keras follows best practices for reducing cognitive load: it offers consistent & simple APIs, it minimizes the number of user actions required for common use cases, and it provides clear and actionable feedback upon user error.
Modularity
A model is understood as a sequence or a graph of standalone, fully-configurable modules that can be plugged together with as few restrictions as possible. In particular, neural layers, cost functions, optimizers, initialization schemes, activation functions, regularization schemes are all standalone modules that you can combine to create new models.
Easy extensibility
New modules are simple to add (as new classes and functions), and existing modules provide ample examples. To be able to easily create new modules allows for total expressiveness, making Keras suitable for advanced research.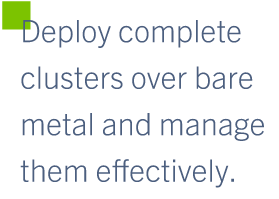 How Bright Cluster Manager Works
Bright Cluster Manager lets you administer clusters as a single entity, provisioning the hardware, operating system, and workload manager from a unified interface. This makes it easier to build a reliable cluster. Once your cluster is up and running, the Bright cluster management daemon keeps an eye on virtually every aspect of every node, and reports any problems it detects in the software or the hardware, so that you can take action and keep your cluster healthy. The intuitive Bright management console lets you see and respond to what's going on in your cluster anywhere, anytime.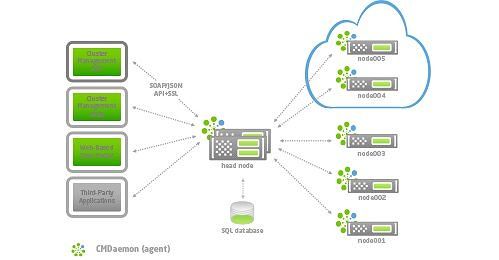 Bright Cluster Manager for Data Science
Bright Cluster Manager provides everything you need to accelerate your data science projects. Bright brings everything together in a simple, easy to deploy and manage solution that will get you up and running quickly and reliably in less time than you might imagine. Bright Cluster Manager for Data Science features includes:
Easy Installation and Flexible Configuration
Installs everything you need, including your chosen distributions of Linux, Spark, libraries, and more. Bright's configuration groups make Spark configuration more flexible than ever.
Choice of Machine Learning Libraries and Frameworks
Includes popular machine learning libraries and frameworks such as NVIDIA cuDNN, DIGITS, MXNet, pyTorch, Caffe, Caffe2, CNTK, Torch, Tensorflow, Theano, and more.
Supports Alternate File Systems
Take advantage of Lustre as an alternative to HDFS.
Bright Cluster Manager for Containers
Using Bright Cluster Manager to manage your container infrastructure and frameworks eliminates hassles and complexity, and allows you to fire up containers alongside other applications within a Bright-managed cluster. Bright Cluster Manager for Containers such as Kubernetes or Singularity makes it easy to allocate some or all of your server infrastructure to running containers, and change that allocation dynamically as demand for resources changes. The result is an efficient clustered infrastructure with high utilization rates, regardless of what kinds of jobs your user community needs.
Bright Cluster Manager Features
Installation Wizard
Install everything you need, including your chosen distribution of Linux, workload manager, libraries, and more.
Node Provisioning
Handle the provisioning of software images to nodes with ease, for clusters of virtually any size and complexity.
Graphical User Interface
A single, intuitive interface for all cluster management functionality.
Comprehensive Monitoring
Monitor, visualize, and analyze a comprehensive set of hardware and software metrics with ease.
GPU Management
Leverage powerful GPU management and monitoring capabilities to gain maximum control.
Cloudbursting
Easily create new clusters in the cloud, or add cloud-based resources to your existing clusters on-the-fly.